| | |
| --- | --- |
| Neighbors | |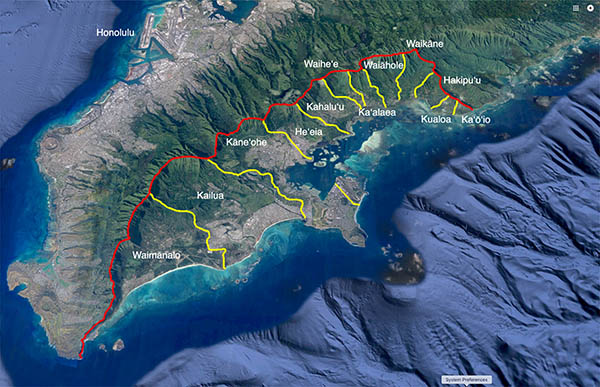 He'eia is bordered on one side by Kāne'ohe ahupua'a, and on the other by Kahalu'u. Both are part of the moku of Ko'olaupoko. "I think Kāne'ohe and He'eia have to do with relationship between Kāne and Kanaloa," Lilikalā explains. "He'eia, they're misspelling it because Sam Elbert misspelled it in Place Names of Hawai'i. He'eia should have two glottal stops: He'e'ia. It means 'washed away.' The source for that is a guy named Poepoe who was publishing in Hawaiian language newspapers in 1906.
"Kāne'ohe is named for the god Kāne , god of sun. He'eia is the he'e, 'washed away,' but he'e is the octopus. And the octopus is a form of the god Kanaloa, the element Kanaloa. He's ocean.
"In Ra'iātea, Kanaloa is the grandfather, and if you're on O'ahu, Kāne is the older brother. But that goes back to the relationship between Kāne'ohe and He'eia. Kāne'ohe is named for the sun. He'eia is named for the ocean. And I believe that Kahalu'u, which means 'the place where you dive,' like into the ocean, is where the sun dives across the mountain at summer solstice. I've been watching that."
"Kāne'ohe was like an outpost," Emalia recalls, "then maybe about the early '70s things started to change. They added more roadways. Kāne'ohe used to be only a three lane, two lane little town. There's like four lanes now. When you go onto Kahekili Highway, eventually there will be six lanes over there going one way. There's malls, large shopping centers, so things have really, really changed in terms of the way the town has been developed."
Kāne'ohe's urban (or, suburban) sprawl bleeds over into He'eia to the point where many people do not realize where Kāne'ohe ends and He'eia begins. "Windward Mall is really not in Kāne'ohe, it's in He'eia," Lilikalā reminds us. Kāne'ohe was also the center of the early American Protestant missionaries on this side of the island, while He'eia fell largely under the influence of French Catholic missionaries.
"Kahalu'u ahupua'a is pretty similar to He'eia," Hi'ilei remarks. "It's a bit rural. Everything is a little more rural as you head North. But Kahalu'u, similar to He'eia, there's a lot of taro cultivated within the ahupua'a. There's a lot of really old terraces there, and you can actually go on a hike and see a bunch of the old terraces in 'Āhuimanu. Kahalu'u is just like most of the other ahupua'a along Kāne'ohe Bay.
"Streams are perennial; they're all spring-fed so we're lucky in that way. And there was a lot of farming done in Kahalu'u back in the day, as recent as 50 years ago. Now, there's a lot of residential. More and more residential is trying to replace a lot of the former taro lands, but a lot of the residents are fighting that conversion or reclassification from agricultural lands to residential, or to what they call 'country,' which is pretty much just one-acre pieces of land with a big old house on it, and a nice grassy yard for somebody that's very rich that can afford that kind of property. We're trying to fight that, to keep country country, and to keep what little open space we have the way it is.
"The fishpond there is called Kahouna. A lot of the locals nowadays call it Kahalu'u Fish Pond. I think it's 30-something acres. It was owned by the Yap family. I think it's still owned within that family. They have a church on the wall, and so that's kind of how they stay afloat is they do a lot of weddings for Japanese tourists to generate revenue. They do well. My cousin is the kahu of that church.
"They maintain the pond. There's a person there, his name is Blake, a Japanese guy. He's our friend and he does fish it, and sell the fish. He stocks it with fish, but the wall is different from ours. It doesn't go completely around, but it is completely concreted. They've got at least two mākāhā that I know of, and a pua pond there as well for fish fry, fingerlings. It's a smaller pond within a pond that cultivates small, juvenile fish, and gets them to size before they are let go into the larger area of the pond. Gives them a little fighting chance.
"That same flood that caused a bunch of devastation for us here in He'eia in 1965—the May 2nd flood—also caused a lot of devastation in Kahalu'u. So, the creation of what seems to be a lake behind the Hygienic store was a flood-control project that they did. They channelized a big portion of 'Āhuimanu and Kahalu'u streams. That affected Kahalu'u and He'eia pretty bad. Other floods affected Kāne'ohe, but that seemed to be concentrated right in the He'eia-'Āhuimanu area.
"Lu'u means to dive, to submerge yourself; kaha is the shoreline, so Kahalu'u refers to the 'diving shores.' This whole bay is known for catching octopus. Many of the stories associated with He'eia, and Kahalu'u, and Waihe'e, they all involve octopus fishing. I think this entire bay, we all have that in common regardless of what ahupua'a you live in."
"He'eia folks, Kahalu'u folks, Kāne'ohe folks and Waimānalo are all kind of one big family," Alice relates. "I think we go as far as Kahuku. Ko'olau, Ko'olauloa. In between there's family all over."
"Ko'olaupoko is kind of one big place, really, Mahealani agrees." Especially for us is Kāne'ohe Bay, from Mōkapu all the way to Kualoa, that's our area. Our protocol for Hawaiian practice is not to go into another Hawaiian Civic Club's jurisdiction, so we don't bother Kailua unless they ask us for help, and same with Ko'olauloa on the other side.
"Kāne'ohe and He'eia families are all connected and related in different ways. From my grandma's side I'm related to Auntie Alice Hewitt, through the Kana'e line. When I was a child, we drove all along He'eia—Kamehameha Highway was our major road—and everybody knew everybody. Whenever a family had a baby lū'au or wedding or even a funeral, everybody went, everybody knew, everybody either related or they were neighbors or they were friends or whatever. So around Kāne'ohe Bay, the families, the old-time local families all knew each other."
Kalani tells of the importance of Kualoa
"If you listened to my great grandma's recordings—they're all in Hawaiian—it's interesting because she is born and raised in Ka'alaea," Hi'ilei explains, "which is the valley between Waihe'e and Waiahole. There's a store there. If you blink, you will pass it. There's a country market, there's a little liquor store that everybody stops at on their way up to the north shore to grab beer. Senator Fong's plantation is in Ka'alaea as well. My great grandmother, that's where she's from, and she talks a lot about knowing people in Waiāhole, and knowing people in Waihe'e, and Kahalu'u, and even He'eia, but that's it. Because it's such closed quarters, you really had no need to travel the 96744 district.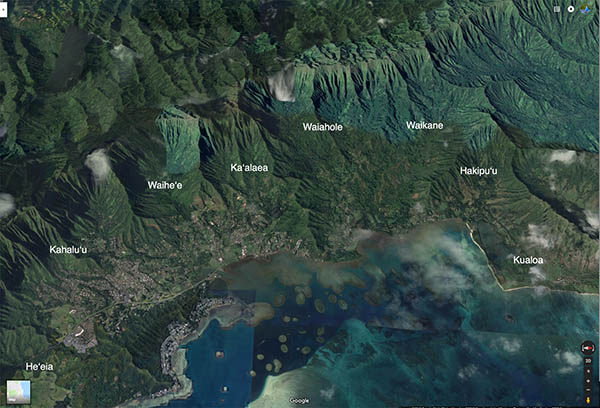 "She was asked a question in her interview about if you know such-and-so person from Waikane or from Hakipu'u, and she didn't know. In the large scheme of things, Hakipu'u and Waikāne are like a stone's throw away from Ka'alaea. This is like the early 1900's we're talking about, and she didn't know them. I wonder if it's a thing, like people would just kind of keep to themselves, keep to their area. And maybe they might know of that individual or may have heard of them, but unless they really know them, maybe they just kind of keep their mouth shut.
"But now our sense of identity here is, we're in He'eia but it's more a Ko'olaupoko sense of identity, or zip code, 96744. And the three numbers in the phone number of this area is 239. That's kind of what we associate with. Kāne'ohe is 247 and 235. You kind of know where you're from if you have a 239 phone number. And then there's Ko'olaupoko which includes Waimānalo and Kailua. Our sense of community has brought in to be more inclusive over the years."
---