"He'eia combat training area was in He'eia Kea," Rocky says. "That where I live now, across the pier. In fact, they just were in there about two months ago doing research on ordinance. Two years ago, they actually found a live grenade, not knowing all our lives we've lived there. My kids growing up, they used to come home with this machine gun, the whole thing. And I thought it was cute, 'Alright, they're playing with it.'
"Now these guys said, 'You know that was dangerous.' We said, 'Really?' It had the bullets in it too, but I didn't know it was live or what, but they played army with that. There's still old bomb shelters up there, really big bomb shelters. There's two bomb shelters, and there's also fox holes. You can see the fox holes and the rust from them."
According to a Department of Defense document, "He'eia Combat Training Area consisted of two parcels comprising approximately 2,458.047 acres acquired in 1943 by lease or license with the Bernice Pauahi Bishop Estate, Sing Chong Company, Ltd., and numerous other smaller private land owners. An encampment supporting as much as 4,500 enlisted personnel and officers of the 98th Regimental Combat Team was constructed at the Heeia Kea parcel in October 1943. Site improvements included barracks, roads, a mess hall, an open air theater, a motor pool, ammunition storage facilities, pistol and rifle firing ranges, hand grenade ranges, and obstacle and bayonet courses."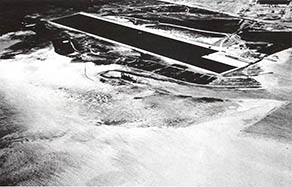 "The army was not there when I was growing up," Rocky explains. "The army evidently left at around '44-'45. I was born in '43, but the military still did work in the bay. As a teenager, I remember once when I was diving in the water with my friends—I'm a lawai'a, lawai'a means a fishing person, my aunts can fish too—the military would come with their big horn and yell at us, 'Get out of the water Get out of the water!'
"And they just let out the dynamite. They were making the channels. So, the whole night, it's shaking, dynamite. But it was like nothing to them. But today, there's all these rules and regulations and you can't do that anymore. We took a beating from the military, and yet our family accepted them because it was acceptable because it was for the war. In fact, a lot of my family had war babies, military babies. They're still around. They're all accepted and they're all loved."
Rocky talks about brewing 'ōkolehao and selling it to the military.
"During the wartime my earliest memories," Mahealani says, "I was three years old, I remember them having parties in my grandpa's home where they had military camps nearby, and a lot of friends from the military came to these parties."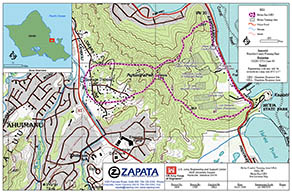 "This place was a different place," Emalia states. "It wasn't all residences. Near the end of this road Waikalua was an Italian prisoner-of-war camp. My brother has very vivid memories of that camp because he used to watch the prisoners walk, march down to the bay, go swim, come back up and then there's one prisoner did a painting of my cousin and he has that painting, so it is something real.
"It was a camp right in the back of where we live," Leina'ala adds, "all red dirt land in the back of us and we would go up there to the prison, to the camp where the fence were there and we'd try to talk with the prisoners and they'd throw out candy bars. They were really nice to us kids."
"One of my cousins he was here on Sunday," says Emalia. "He has a painting that was done by an Italian artist that was a prisoner there and he still has it to this day. And then my aunties, I think they all used to work for the laundry."
"But why would have a prisoner of war camp on this street down there on this road, I don't know. Italians, and they used to march them down to the bay to go swimming. Every day I remember my brother used to say, 'You know these Italians, usually they to march them down to the beach, they swim and then march them right back up.' I don't know how long they were here."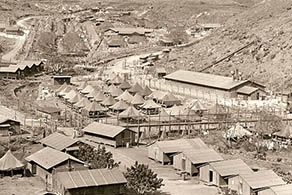 "There was also a camp for Italian prisoners over here in Maunawili," Chuck says, "but the larger amps were in Wahiawā and below the Kamehameha Schools campus in Kalihi. It was said that up to a thousand prisoners were quartered there. I remember that site during 1947-51 when I went to Kamehameha Schools. We were down that area for ROTC practice.
"The area where the Kamehameha Shopping Center is now located was used by the Army Corps of Engineers to make camouflage nets. Later in 1984-5 when I was teaching at Kamehameha Schools, I conducted a summer archaeological study with the Bishop Museum to research the Italian Prisoner of War Camp, and also a lava tube that was used for ancient and turn-of-the-century Hawaiian burials."
"During the 1940s when I was maybe a toddler," Mahealani recalls, "four or five years old, my grandpa was a retired policeman and he went to work for that Star Bulletin as a distributor. So he would take me on his big newspaper truck riding all around while he distributed the bundles of paper to the newspaper boys. The papers were dime a piece. And we would go up into Ha'ikū Valley to the coastguard station to drop off newspapers. So we went up there every day and that's all I remember, because I was a little kid but I remember it being beautiful, immaculately kept, the vegetation wasn't so badly overgrown there. They actually had it pretty clear back then in the late 40s, early 50s, so that was kind of sad that it's been allowed to get really overgrown. But the coastguard did a good job of taking care of it."
---