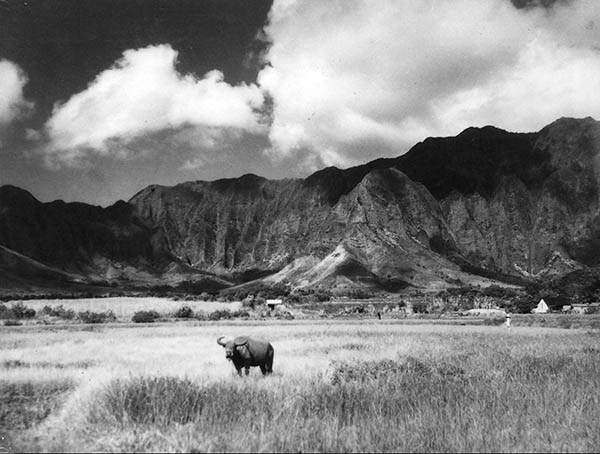 "My family was from here," Alice says. "Part of the St. Ann Church, that's part of our family's. We lived in across the street, if you go back down there, there's the school is on that side. On this side—the lo'i side—the houses up there, they're all family. It's all our family. They didn't have to move but we and the navy station had to move, part of the navy station moved to Ha'ikū. They had to move too.
"We lived there. I lived there about 13 years before we were forced to move. I remember that, but you know, you don't think about. Now when they say you got to move, you know people wonder 'Why? I wonder why they have to move?' You see, you take the money or they condemn your land, so we were fortunate that we had a haole grandfather and he had land at Ha'ikū. That's where my kids, my sister and my brother live now. But that was our playground on the streets and down the field.
"Then they had the Japanese fish camp next to that, with the muddy water. Now the road is He'eia Street, and somebody bought in. The families had to move like us because they made the Ali'i Shores subdivision right there. So they had a lot of families that had to move and it was named the Japanese fish camp."
"And then there was a feed store," says Lilikalā. "That was before they built up that shopping center. My mother said there was a Hongwanji Buddhist temple there, and it was all taro patches all around."
"The road going down to the fish pond was a graveyard on one side," Alice resumes. "It was a Japanese graveyard and when they built those houses, that's all landfill. And down the road where Paepae is was my grandma and grandpa, they're Mr. and Mrs. Westcott. They took care of us when we were kids. It was beautiful house over there, but the house right now is almost in the water over there. It's almost in the water and it never was like that.
"There was a judge that lived on that beach. He had his own channel so his kids could swim, and he'd let us go there. We called it Cass Beach but everybody calls it Paepae o He'eia today. Cass, that was the judge's name, Cass beach, and he was a cripple. He was a judge in Kāne'ohe. Haole guy, he used to own the right hand side of the property where some of the houses are now. Those houses weren't there when we grew up.
"There was not too many big events but during election time this place was like a party. They had food. They don't have like you go to the booth and you vote and you go home. No, you stay there, they have music, they have food, the people running for office they come and stay with you and give the kids all the cards and that's our big recreation besides sports. A little sport that we played for the leagues in Hawai'i here, and we did have some nice big carnivals.
"You had to work to get what you want. Now if you just spend the money, buy what you want, yeah. We had to work. I sold poi. Before, the poi was in bags, not plastic or ziplock bag so we sold it. I get penny a bag. So you sold a hundred bags, you got a dollar. That was hard but you know we earned that dollar. And that dollar went a long way, a really long way oh yeah. Now you give the kids a dollar, they're like 'Just a dollar?'"
Alice and Emalia talk about Hawaiian Language growing up.
"When my mom was little, mostly it was still taro fields," Lilikalā states. "When you went by the fish pond, there were no mangrove trees. You could see from the long road all the way out to the ocean. There was still quite a lot of fishing here. She was born in 1920, Catherine Leilani Labonte [sp], and she was born at Tripler Hospital because her father was in the army. She has a twin, and she and her twin lived in great poverty after her dad died, especially.
"When they moved to Kāne'ohe, they moved because my grandmother's brother was living here, he was the sheriff. His name was George Cypher, Jr.—Mahealani Cypher's grandfather—so we're cousins.
"They lived close by each other at Waikalua Road. That helped her because she wasn't married at the time, and eventually she did get married. She lived on Duncan Drive. Duncan Drive is when you're coming down from the pali, right before you get to Windward City on the makai or the right-hand side of the road, there's a little loop called Duncan Loop or Duncan Drive. Mrs. Duncan owned the property.
"My mother tells the story about how they were really poor that they used to clean house for Mrs. Duncan. Her mom and the two girls, I don't know about 10 years old. Mrs. Duncan had a garage. So my mother said, she convinced Mrs. Duncan to let them live in the garage and let them plant food.
"So, they planted corn. I'm not sure why they planted corn. I guess it was the rage. And she and her sister would take the corn that they planted and grew out to the main road. It was only two lanes at the time instead of four lanes, and they were sent out there trying to sell corn on the side of the road. People are coming down hills, they didn't really want to stop.
"So, my mother got the great idea to open up the ear of corn and stand in the middle of the road to make the cars stop or they would have to run over her. But eventually, they bought that land from Mrs. Duncan and there are two properties there. One of my cousins still owns it, and the other one was sold. Mostly, they were living in Kāne'ohe area growing up, but it was all farmland and it wasn't really developed until 1959 statehood."
"Kāne'ohe was like an outpost," Emalia recalls, "then maybe about the early '70s things started to change. They added more roadways. Kāne'ohe used to be only a three lane, two lane little town. There's like four lanes now. When you go onto Kahekili Highway, eventually there will be six lanes over there going one way. There's malls, large shopping centers, so things have really, really changed in terms of the way the town has been developed.
"This road runs all the way down to Kāne'ohe Bay, the fringed, the southern end of the bay. But all of that is very historical, that area down there because it's some that's where La'amaikahiki, the first settler, that's where he settled down here and my uncle owns all that land down there where they built their homes. There were three heiau down there we used to play on, climbing along the black rock, we didn't know what it was. My mother used to say 'Be careful over there.' Now they're all residences, but it's interesting because their houses were built on the heiau. They get a lot of visitations until today, they still do.
"Our lifestyle though has not changed that much because we're at the bottom of the roadway here. There's not much activity. Once you get down there, pau! That was all family. There's no way they're going to affect that. I remember this place just being, I consider it country. Others would disagree with me but I think because the cemetery is here, it does leave open space. Without it, that land would probably fill up with houses. So maybe that's kind of good that the cemetery is here, because it does leave an opening so you're not so jammed with a density of buildings.
"There was a Libby pineapple cannery did some business here in Kāne'ohe. They had a cannery right in Kāne'ohe where the Bank of Hawai'i is, that's where the cannery was. And everybody worked for the cannery. I have a photo of my mother and her aunty—my mother was thirteen and they worked for ten cents an hour in that pineapple cannery."
"They had a cannery in He'eia Kea, where the peninsula is," Lilikalā adds. "There's that little church, St. John By-the-Sea, there was a cannery down there, it was called Libbyville. Further along past the marina was the cannery, and they had a pier there to take the pineapples away.
"Where the bank is across from Windward Mall, the American Savings Bank, it used to be a nightclub called Honey's. Don Ho's mother ran that place. Sometimes, my mom would stop there after work. The kids would all go in, sit around and eat. I remember Eddie and Betty Cole. I think Eddie Cole was Nat King Cole's brother. They used to play music there and various other Hawaiian musicians. That was a place you could go listen to music, and it was the only place in Kāne'ohe, really. It was called Honey's, because Honey was the name of Don Ho's mother.
"Don Ho's mom had a bar in Kāne'ohe," Alice adds. " Not too busy, but enough to get them go cuckoo. It was fun. He was good. His mom had Honey's here. His mom, she was the first, the Honey's is across the street. The Mahalo Gas across the street from here is where the first Honey's was. It was the name of the cafè, Honey's Cafè, by Don's mom. And they have their picture down at Ko'olau ballroom in the bottom they have the Honey's there. They call it Honey's II. It was very popular. That was very popular.
"A lot of this is all new. Now you get new buildings coming up and but not too many families actually all went here, out here until...after the war had money to buy a lot of... the family that owns this place, they own all from Zippy's this way and from across the street that away but they own a lot because they had money during the war.
"All this building started slowly, yeah before that, slowly. Supermarket across the street, the fire department, police department all came up. They all came and then the golf course, Pali Golf Course.
"Oh my God, too many changes. Housing. It's the worst thing that happened to this place. It's just housing, restaurants. I mean, where Ha'ikū Gardens is up in Ha'ikū, Haleiwa Joes, from there down to the highway, there was just land. Nothing, nobody's house. And across the street was one house. And then we had three houses up there, and they go more up. They go towards the Omega station. No houses, now it's all there. When you look, oh my god, new subdivision coming up. Because every time they get a subdivision they have to tell the neighbors that live in that area, 'Yeah so we got to go.' 'Why?' And all land is all filled up. The land down by the beaches, all the roads and everything, those beaches, those houses are going to go down.
"Oh, we get Pohai Nani up there, a big nursing home and that's all houses over there. Yeah, I live over there. All houses over there, a lot of them are past twenty years old, but that used to be all dairy land. There were about four, five different pastures and four, five different owners to be all the way up there to Hawai'i Memorial Park and things.
"It was all pasture land, used to be all dairyman. It was Souza, Santos, DeCosta, all different names, yeah. They all owned pasture lands. And then pretty soon somebody come and buy them all, and they're getting old, so they sell it. And across the street from Hawaiian Memorial was all pastureland.
"And now it's all houses, any spot you look. Like right behind St. Anne's church over there. That was all pastureland, now houses. And now going towards the mountain, towards Kaheiwi, Ha'ikū plantation, that's below us. That was a rubbish dump all the way up there and the way inside and there was part of our swimming pool, a big swimming pool in that same area. Pool in the stream and the waterfall in the pool above... yeah that's where it was. And that's still there, but because the private land. But that rubbish dump, it was a rubbish dump and part of a dairy, right there. And then they filled their land up and they got all those beautiful one-acre homes, all land with big homes."
More about the expansion of housing on the Development page in the Today chapter.
---