"That's the problem at Kaniakapupu: the place is overgrown. We know there was a house site, we know there was a heiau, we know there were taro ponds, and you can't grow taro without sun, so that's the other reason I say we know the forests were not a prominent part of the landscape, because wherever you saw taro patches, it was open to sunlight and rain."
"It's new growth," Kalani agrees. "I remember there being a forest area and a larger area with less homes. In the area where there were no homes, it was tall grass and ferns. Some trees, not many. The trees that came in were always mango trees or kukui nut trees. There were more of those."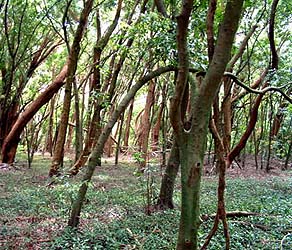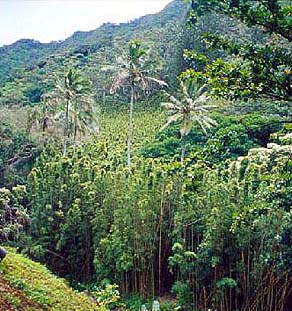 Two major pests include bamboo, and banyan trees. "Bamboo is a pest," Stephen remarks. "Some of it is native, but a lot of it was introduced. A lot of it is by accident." Kalani concurs that there wasn't as much back in her childhood as there is now. And while the original Polynesian colonizers brought one species of bamboo, that is not the voracious type we are seeing today.
"The banyan trees are awful and totally invasive and that's new," she adds. "Unfortunately, I guess the City thinks they were here all the time, so they don't cut them down. They have caused a great deal of damage."
"Banyans will eventually take over," Stephen adds. "You can see the evidence of that taking place.They are alien trees, their root systems are very invasive, they get in, and they can actually start tumbling rocks down."
What about up near the Pali lookout? "We know there was an artillery duel actually going on here during the battle of Nu'uanu," Stephen replies. "When you read about Civil War history you hear about how important the open field of fire was for artillery units. Often times the army had to cut down trees to set up the range for their artilleries-- artilleries are no good in forests. You see all the trees here now, well, these trees weren't here, or you wouldn't have had an artillery duel.
"We call this a 'water reserve' but it's really not functioning that way. They're using a forestry technique that was for the continent, and is really destroying our basic water supply. Look at how much these trees are thriving. These trees are stealing the water that should be going into the ground, into the aquifers. Anybody who knows a little bit about plants, you know the plant thrives when it has plenty of water."