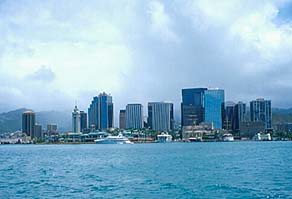 Ola ke awa o Kou is ka ua Wa'ahila.
Life comes to the harbor of Kou because of the Wa'ahila rain.
It is the rain of Nu'uanu that gives water to Kou (now central Honolulu).
'Olelo No'eau #2486.
Ka ua Kukalahale o Honolulu.
The Kukalahale rain for Honolulu.
The rain that announces itself to the homes by the pattering it makes on the roofs as it falls. Often mentioned in songs.
'Olelo No'eau #1575

Ka ua Popokapa o Nu'uanu.
The Tapa-bundling rain of Nu'uanu.
The Popokapa rain is so called because anyone who came up Nu'uanu Pali from the windward side had to bundle his garments and hold his arms against his chest to keep from getting wet.
'Olelo No'eau #1601.
"Here at the Pali Lookout we can see dramatically how the trade winds and clouds come over the islands and intercept the mountains" Stephen explains. "The clouds are full of water, and when they hit the mountains they start to uplift and condense. That the Ko'olau mountains run almost perpendicular to the prevailing trade winds, some call this an accident of nature.
"But in Hawaiian mythology, the islands were created to capture the clouds. It's intriguing that we use the term ahupua'a. The word pua'a associated with the pig, but it's also the name for clouds. 'Pua'a' refers to the types of clouds that gather on the mountain peaks. So some of us feel that the term ahupua'a--'pig altar'--has a much deeper significance: that the altar is really the mountains and the pua'a is really the clouds."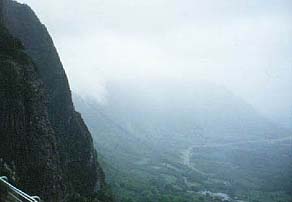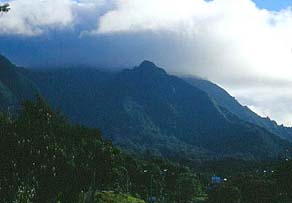 Mehe ao pua'a la, ke aloha e kau nei.
Like a cloud resting on the mountain is the love alighting here.
Pua'a as clouds, cloud or fog bank, often as gathered over a mountain summit, was thought to be the cloud form of Kamapua'a.
Pukui, Elbert & Mo'okini: Hawaiian Dictionary
"And in the Hawaiian mythology, the origin of the islands was the mating of Father Sky (Wakea) and Mother Earth (Papa). And there you see it, Father Sky in the form of the clouds descending on Mother Earth. And very graphically told in the Hawaiian oral or unwritten literature is that this is actually the lovemaking between Father Sky and Mother Earth. And in their passion the semen is released in the form of water, which then fertilizes the earth and from which all life form emerges.
"So it's a very poetic, sexually liberated view of the gods and the origin of life. In their lovemaking, water issues forth, and flows down the mountains in the waterfalls and streams. From that and the ancient mythology the taro plant grew. From the taro came the first Hawaiian. They're intimately tied in this 'ohana, family, union between the gods, the spirits, the land, the animals, and the humans. It's a great story and one that deserves to be told."