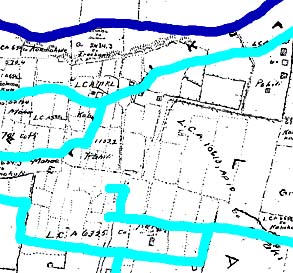 "The existence of the extensive Paki auwai system," Stephen adds,"that's further evidence. Auwai was for taro, and so a lot of the lands in here were taro patches. The land still holds clues, and you see areas that show presence of water in the ground."
"The evidence is that the chiefs lived here. One thing we always forget: if the kings were here, the royal families were here, and they had retinues, they had staff servants, they were hosting guests. They had taro. They had water. This is all before the Board of Water Supply and modern plumbing, or importation of foods.That's the broad historical perspective."
Handy (1940: 78-9) writes, "From Waolani to Kapalama the terraces were continuous on the level and gently sloping between land between Nu'uanu and Waolani streams, past Wyllie and Judd Streets and throughout the section on the north side of the valley, down what is now Liliha Street. In many vacant lots, yards, and gardens above and below Judd Street traces of terraces may still be seen."