"Many people would rather have decided their own destiny. That is, to fight and die in battle versus being captured and turned into a slave, or be sacrificed. It would preserve the mana or energy for your bloodline if you were to die or go in battle, rather than to be captured and humiliated by having your bones made into fishhooks or other things of that sort."
"The name of the battle in Hawaiian is Ka-lele-a-ke-anae," Stephen interjects, "which is the leaping of the anae, the mullet fish. The text under the painting here at the Pali Lookout says it refers to the men forced off the cliff. But the name tells you something else."
"In 1897, when they were building the Pali Highway," Jerry continues, "excavators counted approximately 800 skulls, so, it's a better guess to say that there were at least up to 800-plus people who lost their lives going over, either jumping or in battle or just trying to escape."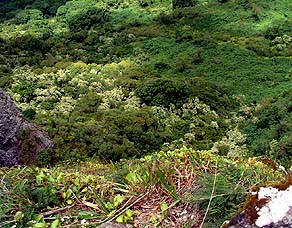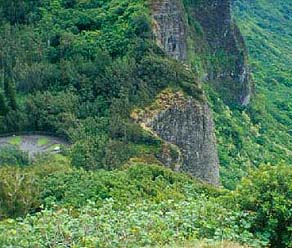 "A number of them did escape. Some went up Pacific Heights, but primarily they went up Alewa and over into Kalihi and escaped to Aiea and through there. Others went up over the pali or went up to Kalihi and then went over into Kane'ohe. A lot of them went down the old trails on the pali, of course.
"Kamehameha's wife Ka'ahumanu had come over with him. She was not in the main battle, she was back in Waikiki and the other areas. And a number of the O'ahu chiefs and families that did escape went to her to ask for protection, and she gave it. So many of those who did escape and get to her were granted life."