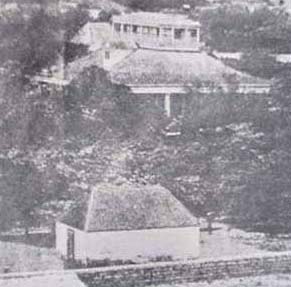 A photo before 1875, showing the original 'Iolani palace in the back, and the small coral house of Pohukaina nearby.
"Their beautiful caskets are brought and placed in Kalanimoku's complex," Jim Bartels continues the story. "And after a time, a small eighteen-by-twenty-four foot, Western style, coral structure in is built as a mausoleum. At that point, we begin to hear the name 'Pohukaina' spoken."
"When Kamehameha II, this sacred person and his sacred sister, were buried in this earth, my belief is that the whole Pohukaina image was transferred there at that time. It seems that the name 'Pohukaina' begins at the time of their burial in 1825.
"So that became the royal tomb from 1825 up until the 1860s, and as each king and his family died, their coffins were put in this little house. Problem is, you begin to realize that the house is too small, because we hear of high chiefs, and chiefs being buried there as well."
"We believe that somehow, Kalanimoku had found a natural cave and built this little house on top of it," Jim concludes. "And then we know that the ali'i who were not quite royal were buried in unmarked graves around the house. So that whole area in that quadrant of the Palace grounds, quite a large area, ended up being the chiefs' cemetery."
"In 1858, Kamehameha IV brings over the ancestral remains -- coffins and even earlier grave goods, going way way back -- and they are buried in Pohukaina. They got them out of the caves, which is a long tumultuous story, because the royal remains were considered god-like. Many aspects of the care of a chief's woven casket required what amounted to religious worship. So the great woven caskets or ka'ai of Liloa and Lono-i-ka-makahiki were brought to Pohukaina.
"This is what gives the area a great sanctity, because these are some of the greatest chiefs who ever lived. When the new mausoleum was built in Nu'uanu, the original house was torn down. The area was then just leveled, and a lawn planted over it.
"When King Kalakaua was Europeanizing the 'Iolani palace grounds, he put a French garden in that area. But he raised a simple mound of earth that is still there today. Later that mound was surrounded by a little fence.
"But the ancient remains were largely left in place, and are believed to be there today. That's why Pohukaina is being rediscovered as a very sacred place."