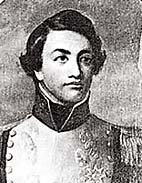 Kamehameha III,
Kauikeaouli,
as a young man
"With the death of Kamehameha II and the accession of Kamehameha III in 1824, it's pretty clear that Honolulu must be the capital of the kingdom," Jim Bartels, who served as curator of 'Iolani Palace for 28 years, tells us about the origins and history of the Palace, and its significance to Hawaiian culture.
"In the 1820s the young Kamehameha III actually lived at Pohukaina -- this is not generally known -- in a large, wonderful grass house. And he occupies other great magnificent grass palaces in the area of the Palace and mauka of the Palace grounds. In 1837, he leaves to bury the love of his life -- his sister Nahi'ena'ena -- in Lahaina, Maui, and stays away for eight years.
"During this time he is constantly recalled from Maui to O'ahu because of conflicts with foreigners. So he's really doing a kind of 'commuter kingship.' Finally in 1845 he realizes he must return.
"And lucky for him, Kekuanao'a had been building a wonderful, Greek-revival palace for Kamehameha III's niece, Victoria Kamamalu, who was still a little girl. And it is the finest house in town. Because the king obviously has to have the finest house in town, it is appropriated for him and becomes the royal palace."