| | |
| --- | --- |
| Other Heiau | |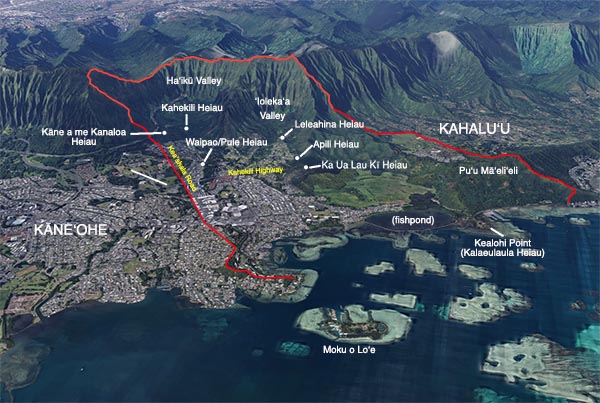 Ka Ua Lau Kī:
"Mauka of He'eia lo'i kalo, there's a heiau called Ka Ua Lau Kī," Mahealani begins. "Kahekili Highway goes right through it—right through the middle. That is just as you enter the dip going towards Kahuku coming from Ha'ikū Road going towards the dip, there's a ridge that it cuts right through, and that's where the heiau Ka Ua Lau Kī is. The name means 'Tī Leaf Rain.' I explored the area some time ago with an archaeologist who was really well known, a popular guy with Hawaiians. His name was Buddy Neller. We found what he considers to be remnants of the old heiau that was badly disturbed by the construction of the road. He found upright stones and other things that indicated to him this was the location of the heiau.
"I had an interesting experience there. I went up with Leimomi Kuō, maybe 15-20 years ago to gather 'ōhi'a leaves, the red leaves. I was gathering all different parts of the tree, because they have a lot of 'ōhi'a trees up there. I was making a wreath because it was the end of November, just before Christmas time. So she took a group of us to explore the trail and see the 'ōhi'a trees overlooking the bay. It's a beautiful view. Right before you enter the dip in the road, we parked on the side of the highway and we went over the little railing onto the trail and climbed up to the top. We got up to the top in five minutes, really fast. Then we saw this beautiful grove of trees, and we saw the bay and it was a wonderful day. I gathered a lot of leaves and plant materials, and we came back down and so we had a nice time.
"I went home, and I started doing my wreath, and I did almost the whole wreath but I was like four inches short. I didn't have any more greens and I thought, 'I have to go more time, just get a few more, and I'll finish it.' So I called all my friends, nobody was able to go the next day, it was Sunday and nobody could go.
"So, I said, 'Well, I can just do it by myself. I just go up there and grab—five minutes from the road, fast up, fast down.' So I went and parked next to the railing, got over the railing, climbed up the trail to the top of that little ridge and gathered my greens and put them in my bag. And as I started back down the trail, I kept going around and around in circles. I was heading for the ocean, and the trail would end up facing the mountain, over and over for two hours. I couldn't get out of there.
"And finally, I sat down in the tall grass, and I thought to myself, 'Okay, what am I doing, going around in circles, when I should be out of here already?' And I thought, 'Okay I forgot to ask.' So I said my pule to the spirits of Ka Ua Lau Kī heiau and I apologized for my rudeness, and I explained that I just needed a few leaves for my wreath, and I thanked the place for the gift of the plants. So after I said that pule, I stood up, got on the trail again, and then two or three minutes I was heading down and I was out of there in no time. So that reminded me that I can't forget my manners when I gather from a sacred place. Actually, when we gather from any place we should have that courtesy.
Kāne Hekili Heiau:
"If you go into Ha'ikū Valley, past Kamakau School past the fork, on the right hand side you're crossing over a stream and on the right hand side is the hillside. And up that hillside is a huge pōhaku covered with hau bush and other vegetation. It holds a big stone in the wall of the mountain, and when I went there long ago, it wasn't as bad, it's much worse now. That stone is covered with petroglyphs.
"Hawaiian Homes did archaeological studies of the area, and they claim that that was a heiau called Kāne Hekili or Kahekili. They call it Kahekili heiau and it's not, because we spoke to some of our elder members from He'eia, our kūpuna who have since passed away. We took them up into Ha'ikū Valley to identify where these sites were. They said Kāne Hekili heiau is not there at the bottom of the valley where you come in, it's at the top of the valley.
"So if you proceed all the way to the top of the valley on that loop road that's going through Ha'ikū Valley, you'll come to an offshoot road, passing the radio station, that takes you up to the very top, below what is now H-3 Freeway. And right below the Freeway as you come out of the tunnel is a heiau called Kāne Hekili. Some call it Kahekili, and in some of the reports it's called Kahekili. Buddy Neller tell us he believes it's Kāne Hekili, so dedicated to the God of Thunder and Lightning. And we work there regularly. The Hawaiian Civic Club supports Ko'olaupoko Foundation with volunteer work at the heiau and that is mainly to show respect for that wahi kapu [celebrated place]."
Kāne a me Kanaloa heiau:
"Also in the valley there's another heiau.Iif you keep on the loop road passing the offshoot to the Kāne Hekili heiau, you come to Kāne a me Kanaloa heiau dedicated to the gods Kāne and Kanaloa. They were the original geologists who helped to find water on the island or exposed the water sources to the people. That heiau was dedicated to them and it was the only one that has been marked by the military as a historic site. There was a little sign there that was put up by the Navy years ago that it's a historic site.
"What's interesting to me about that site the first time I saw it, it is in a large grove of old, old mango trees. And I have this theory about mango trees being planted to mark important wahi kapu, because our ancestors were forbidden to worship the old gods. The images were torn down. When the mango came to the islands is right after that happened. So when the mango tree was brought to the islands, the kāhuna learned they would grow very large and live a long time. The kāhuna started planting them at many of the big heiau. So there are many heiau around the island that you can see groves of mango trees. This grove is extending all the way from the base of the Pali all the way down into the amphitheater below the Omega Station. So it's a very large heiau called Kāne a me Kanaloa.
"There are burials. The families from He'eia have family members buried there and when the Coast Guard ran the station, they allowed the families to go in there to take flowers and go and visit the graves at Kāne a me Kanaloa heiau. But when Hawaiian Home Lands took over, they restricted all access for a long time because there are the Hā'ikū Stairs. So they wouldn't let a lot of people go in, and the family members for the Jones family that wanted to go and see their graves and their burials in there wrote a letter to Hawaiian Homes and never heard back. They wanted access to the burial site and they never heard back. So that's kind of sad things that happen with Hawaiian Home Lands. That's why they keep having pilikia."
Waipao Heiau:
"Ha'ikū Road is built over the trail. Then they blocked it off for awhile but I think it's reopened because Rick Barboza has his native plant nursery in Waipao where Papahana Kuaola is. Right mauka of that. That's kind of a more modern facility or property that they developed and it's beautiful. The only thing that they didn't realize is that they have a heiau over there too.
"It's probably called Waipao Heiau and Rick Barboza, when he first started clearing the area and planting his taro, little lo'i kalo, he's given me a tour and I looked at that stonework and I said, 'Wow! Yeah there's a beautiful heiau here.' He didn't know what a heiau is. I said 'you got to look at it.' I mean, he's a plant man. He's looking at plants and he's looking at animals. He's not looking at stones but that's a beautiful heiau. It's a beautiful, beautiful heiau, not sure what kind, someday they may find out what it was used for you know chant or something but definitely a blessing on that property.
"The heiau at Waipao, it might be Pule Heiau because it's right near the area. That one looks like in that the same vicinity as Pule Heiau where Rick Barboza them have that Papahana space. And that's a place where you look at those stones and feel like you should be praying because they're so massive and they're upright. You know, embedded in the mountain but you feel like you're in a Cathedral or church or something because it's just like impressive."
Pu'u Mā'eli'eli:
"Pu'u Mā'eli'eli is on the He'eia Kea side past the boat harbor, looks over the boat harbor. There's a heiau up there somewhere and I know hikers who have gone into the area and felt really uncomfortable when they approached heiau. It's almost like you're not supposed to go there. They'll get that feeling that you shouldn't be here."
Rocky tells a story of visiting a heiau.
"We were told we weren't supposed to go to those heiau," Alice recalls, "because they were blessed and we might do something stupid, so we were always told 'Keep away from the heiau.' So we didn't go. We have quite a few. A lot of them are covered because builders and whatever property owners, they don't know, and they don't respect. They have one up by Kamakau School and Mahealani goes there. Mahealani them, they go there to clean. And when she goes, Rocky and I, we sit in the car. There's some places you really can't...you have the feeling that that's not where you belong and so that's a respect you get. You don't go. There's a lot of rules, and if you don't follow them, you take those bad spirits with you."
In addition to these sites, there is also the burial cave Kaualehu.
---