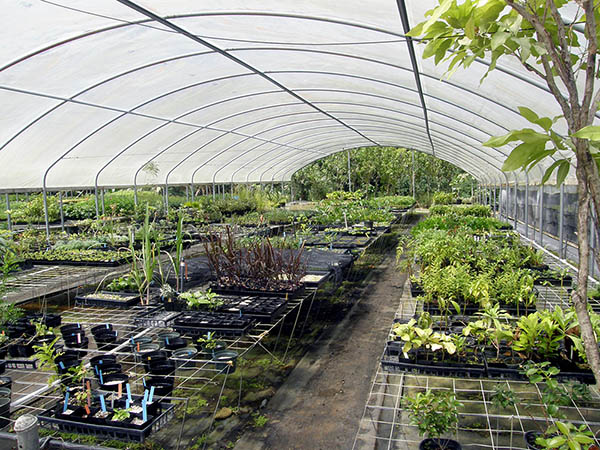 Inside one of the plant nursury buildings at Hui Kū Maoli Ola.
"To me, when I hear the word 'conservation,' it's 'protecting what is left,'" Rick states. "What we're trying to do is expand and provide more than what is left. And putting plants back where they haven't been for the last 200 years, or even more, since Polynesians settled here.
"And then not only that. There's such a high percentage of endemism in Hawai'i, not only within the state as a whole, but within each region of the state, or each ahupua'a. The ahupua'a here and the plants that are growing here are completely different from the ahupua'a that surrounds Honouliuli.
"It also brings back an understanding of the sense of place, or how you identify with your home. What better way to do it than to show people your home used to be surrounded by these types of plants? You can still have your house there, that's great.
"But would you like to have your house there with plants that have no stories or no contribution to the ecology of the area, or would you like to have a landscape that not only will make your place look beautiful, but this plant is going to feed that butterfly, which none of your plants do right now?
Nick Needle talks about the Waipao lo'i and replanting Hawaiian plants
"Or this plant is going to feed that bird, which none of your plants do right now? Or this plant is associated with this story that is unique to this place because of this plant. Or in some cases, the town that you live in is named after this plant, and you can't find this plant anymore. So those are the type of things that, when we started getting into this, we weren't really thinking about it. We're just kind of thinking more about, What is Hawaiian?
"Everybody had lost that when it comes to plants. Nobody knew what was Hawaiian unless you read these books. The scientists knew what Hawaiian was, and people that still lived that lifestyle knew what was Hawaiian, but not necessarily everything. Most people couldn't just go up into the forest and be like, 'Oh, I know what this is and this is and this.' Now, there's quite a few people that can do that.
"Whenever people come here and they're looking for plants, the first thing I ask is where do they live. And so, I try to match the plant with wherever their house is. Yeah, that's kind of our MO and I feel fortunate enough that we can do that. And just like our landscape designs, we're pulling out plants this morning for one of the landscapes that we're working on out in Makaha."
"I came across that 1928 aerial photo that shows the whole area under taro cultivation," Kanekoa says, gesturing at the wetlands of Hoi. "That's kind of where it started. We thought at first it was rice and taro. But talking to Mr. Fukuda and Mr. Sadamu, they mentioned their families who were Japanese farmed taro, and they had mentioned the rice had already decreased a lot of it.
"We knew that if we built taro patches, we could use those as retainment basins to hold water and sediment—something that our ancestors did. So we knew that the practice of lo'i kalo probably saturated a lot of the land with water, which then increased recharge, which then increased springs, which then increased the entire productivity of the nearshore reef systems because you have all of these freshwater springs flowing.
"Since we get five billion gallons of water falling on a standard trade-wind day, if we can hold those waters, we'll be much better. And it seems though our ancestors really understood that process and built a fair amount of retainment basins or taro patches. Their farms often held water in the same way and it allowed it to drain down, so you could just see the abundance in springs here.
"We're just kind of walking in the footsteps of our ancestors, restoring taro patches and looking at taro patches as providing four benefits. The first benefit obviously is food, economy; the second benefit is natural resource in terms of habitat; the third is ecosystem service to flooding and sediment mitigation; and then the fourth is the activity of culture.
Keahi talks more about the walking in the footprints of the ancestors.
"The kūpuna of the Ko'olaupoko Hawaiian Civic Club, they've been going for a long time in the 70's. They fought the landowner to keep this from being developed into housing. We're just kind of carrying on with that and moving forward for the restoration. I mean, we're just doing what we're supposed to do, restoring taro patches. We would like to return this area back to 100% taro. That'll be the hope."
"We have no conflict with the old world and the new life we have in Christ," Emalia reminds us. "We maintain the old. We don't follow the old teachings anymore so that we've made a boundary right there, yeah. But in our ministry now we teach about our lives following Ke Akua, following the gospel, the Bible in our living. But in my teaching I still talk about our cultural beliefs. I talk about the fact that we still rebury 'iwi. We still put away bones.
"We've built a memorial to our kūpuna in Waikīkī. That was a three-year project where we had to face the City Council, face some residents of Waikīkī which are all foreigners now, they are telling us that if we do something like create a memorial there, it's going to start a whole movement and it's going to block their view plane. We had all every excuse under the sun why we shouldn't build this memorial there and we did and the city paid for it. So we're stewards in that sense. But the gospel that we preach is really...that's a spiritual side of us, because we don't go back and worship the old gods."
Keola Dalire talks about hula in He'eia today
"We have a Montessori School and they also have incorporated 'ōlelo Hawai'i, Hawaiian language, so that the children—while they're learning they're learning their ABCs—they also learn their 'ōlelo. You don't have to be Hawaiian to come to this preschool. So it's brand new, they've had 50 applications for students to come here. We don't have a space for that number because this is the church's property, period. We don't have anything else other than to go up, and who knows?"
"When I was in school you get taught Hawaiian Studies in the fourth grade," Hi'ilei recalls. "Hawaiian culture, whatever. And then you go to the Big Island of Hawai'i and you're there for three days and you see the whole island and the volcano and Queens Bath and the City of Refuge. That was the curriculum that was around when I was a kid.
"Now it might not be like fishponds are a part of the curriculum, but civic engagement, community service is. I think what is being taught is how are these students participating in their community. A lot of the schools, if they actually don't bring the classes out to the site, they still require their students to get so many hours of community service.
Read about Samuel M. Kamakau Hawaiian Charter School in He'eia
"That's kind of where I'm seeing it but there is that element of mālama 'āina that didn't exist when I was a kid and that is incorporated into some of the curriculum. Not all, it really depends on the school, the principal and the teacher. It really has nothing to do with the students and what the students want to learn. It's who are those teachers and are they 'eleu—are they enthusiastic enough about that to convince their principals to vouch, "Yeah let's take the kids out to the fishpond. Oh, let's take them to Kako'o 'Ōiwi, or up to Papahana.'
"We have a really extensive education program," Keoni says of Papahana Kuaola. "We reach a lot of learners within He'eia, as well as outside. We have one of our programs that the focus is actually to take the lessons of our program on the 'āina out into other communities, to schools outside of He'eia.
"Another key aspect is a constant cycle of learning, continual learning from 'āina. And so one part of our programs is building and maintaining lo'i, building and maintaining other cultural spaces within our 'āina, and through that process, learning about mālama 'āina and seeing ways of transferring that learning to formal learning spaces, namely schools. There are so many learning opportunities within communities that are engaged with each other, that we just try to find every opportunity.
Papahana Kuaola educational programming
"We also have a really big vision for Hawai'i. For instance, our education programs: we service quite a few students that are outside of He'eia, and I think last year we totaled about 17,000 students. And over half of those are from public schools and such across O'ahu. We also have one educator on Moloka'i, Auntie Penny Martin, she's a long-time community activist and educator on Moloka'i. She's been with us for almost as long as we've been around, because she was part of another program that moved from Moanalua Gardens Foundation to our program. We kind of got a pre-built education program for that external learning that we do. So we've been really blessed with some dedicated and experienced educators through that program.
"As well, we've have people like Mahi LaPierre who have worked for our program. He's an amazing cultural educator. He was there at the beginning of our on-site education programming. He worked with us for quite awhile, now he works for OHA in their land division. He comes back every once in a while so I think he really misses the 'āina and being able to do that kind of work that's more fulfilling like that.
A brief oral history of the founding of Papahana Kuaola
"Kīhei Nahale-a was with us for about four, maybe five years. He's now in charge of managing a partnership that's between us, Kāko'o and Paepae. It's the Huliamahi Education Alliance, huliamahi.com and you can see more about that project. It's a collaboration between our three organizations, and it's really looking at how do we get every student in the Castle Complex on their 'āina three times a year, every year. We're starting with 4th grade. We're just about to have our first students this current semester but the vision is to expand K-12, or beyond.
"It's focused in public schools, so it's not just Hawaiians. I would say for Papahana Kuaola, our population is maybe close to half, maybe 40% Native Hawaiian. But we realize that connection to 'āina—everyone's connection to 'āina—is essential to the survival and the prosperity of Hawaiian culture. Everyone here in Hawai'i makes decisions. We all have opportunities to vote. We have opportunities to talk to others in communities and build consensus around things. And so to have all our keiki connected to 'āina in a way that's meaningful allows them to make—in my perspective—much better decisions around our future, our economics, our politics, our society in general."
Keoni talks about the next steps they see for Papahana Kuaola.
---