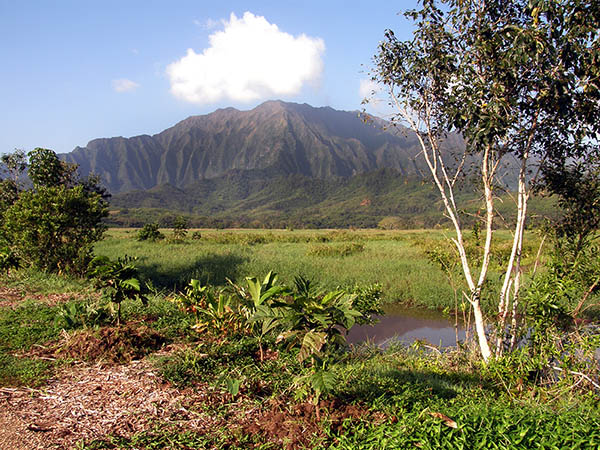 This concludes our journey through He'eia—a journey through space and time. In departing, here are some closing thoughts from our Guides on what can be learned from the works of He'eia's people, past and present:
Rocky:
"You've got to keep the 'āina intact. You've got to take care of the 'āina. You take care of the 'āina, the 'āina take care of you. And I always talk about this with my kūpuna. If you don't take care of the 'āina, the 'āina will come back and eat you. It's happened to many of them who try to develop on this 'āina. They went bankrupt. Everybody was just thinking money, money, money. They forget the value. The real value is on our 'āina. You could never replace it. Once you pour your cement in there, you can't bring it back. You've got to mālama."
Lilikalā:
"Mālama honua, taking care of island Earth as your grandmother. 'Ike kūpuna, the knowledge of the ancestors. We think we know a lot today, but actually our ancestors knew a lot more than we did, and we should learn from that and cherish it. And aloha: we should have compassion for one another; that we should treat each other as one family that lives upon the Earth. We feed each other, we take care of the land because it is our family, we take care of the ocean because it's our family. We need to set aside hatred and anger. We need to talk to one another, even if we disagree, in aloha."
Kamaka:
"Stay connected to 'āina, you know whatever 'āina that maybe. Jump in the ocean. Much of the 'ike kūpuna was 'pule,' Live simple. It's a challenging one, to keep it simple. In today's society with everything going on, just live simple."
Mahealani:
"I would say a most important value going forward is maka'ala, or vigilance. We need to be alert to the changes that are being proposed. We need to get involved and make sure that we are part of what's shaping the changes, or accepting or not accepting. Maybe we need to come up with alternative plans for those changes, so that they don't have to be so destructive to the 'āina and the ocean and the people."
Kanekoa:
"The relationship between Hawaiians and the land, it's family. I mean, we're obligated to take care of it and move forward with it. This land will feed our families, I hope, and this land will give us the opportunities to make it grow. And likewise, if the land doesn't give us the opportunities to make it grow, then we can't make it grow either. So it's a very simple. We're part of the land, is the best way I can say it.
"It's not like, "Oh, there's no racism. We're in a colorblind world now." No, it's still there. It's very much still there. But you know, we can't let that stop us. We got to continue to move forward with this project and always be open to the uninformed and welcome them in and try and change them that way, right?
"Because if we shut them out, they're just going to stay in their little bunker and continue to fester that anger and whatever. You have to include. You have to engage. And so hopefully, the land, this ability here will give us opportunity to share and engage. We cannot disengage. You have to engage, right? Because otherwise, they're going to stay in there."
Keola Dalire:
"I've just recently started teaching my kids to make 'ulī'ulī, make their implements. My keikis made ipu heke last year for keiki hula. My wahine made their 'ulī'ulī for Merrie Monarch. So going through my process, I had to make my own pahu drum. I had to make my own ipu heke. I had to make all these things. I had to go up into the freezing cold river and find my 'ili'ili. And these kids are, 'Ah just go to the store!' What's that going to do? They never realized the tedious task of individually stitching a feather on to an uliuli cap or that wrap that you have to do when you make a lei hulu.
"What that teaches us is the patience. That's the patience and that's the dedication. It's going to take you a long time to make a lei hulu that's going to fit around your head or on your neck, and if you don't have that dedication, that commitment, it's just going to just be one of those things you only halfway finish. That's what hula is: it's a commitment. I remember my mother always saying, 'We would eat, breathe, sleep, hula,' and it's derived into many hālau is saying 'hula is life.' It's not just, go to practice on Monday-Wednesdays for two hours. It's go to practice to learn what we need to learn, come home and utilize it. And I think it's just upkeeping these traditions in a modern world."
Meahilahila:
"I think the most important values that we are instilling in these students it's their sense of identity and their sense of responsibility. I think those two, if we can build those in all of our students, the academics will come. It's when we focus solely on academics and we leave out those connections is really where we see it's challenging for the students.
"The consultancy projects we did, what they found from focus groups and surveys and interviews is this: our students are graduating with a sense of self, a sense of place, and their sense of responsibility to share their knowledge that they have gained. Whereas they're comparing themselves to their counterparts when they get to college, and they see their peers, they see how lost they are.
"Now they are at 17 or 18, trying to find themselves. They have the academics and they kind of have a career plan, but what's holding them back is they don't know who they are. I think that's a much harder problem to solve at 18 than our students gaining those skills and values, and then really trying to find their career path. It's different, because a career path is then leading them down the road of, 'What is a career I can do to help others and how can I contribute to the community?' versus 'What's going to get me the most high-paying job?'"
Emalia:
"Something you need to know about the Hawaiian temperament is that we don't make waves. In other words, it's not in our nature to get out there and fight somebody and make big noise. That's a new generation of Hawaiians. My parents used to say 'Ka waiho wale ka lanakila,' which means 'you leave the victory with them and let it go.'
"My grandfather used to always tell us that if someone fights with you, let him win. You think, 'We're supposed to win.' No, we're supposed to walk away and let the other person win. He said the greater person is the one who can walk away, and let him go. You know why? Who gonna argue with yourself? In other words you've won already. So he says leave it there—'Ka waiho wale ka lanakila.' That's an 'ōlelo no'eau we remembered growing up."
Ian:
"We went to Aotearoa-New Zealand and saw the reflection of the world moving. I saw Maui's fishhook facing the other way. I saw all of the mo'olelo come to life. I understood the protocol, because their protocol is in place, and so I understood the struggle and the politics of being Hawaiian here, and how it's still wrapped up in the intelligence of being indigenous or Māori there. And that's where my focus is always going to be: on the intelligence of the native peoples.
"We have a kuleana, a privilege of living here, growing up here. We're two degrees from nature, we box ourselves out. And so in studying the mo'olelo of yesterday of the indigenous peoples of all places, as soon as we extract it from the language, we extract it from the metaphors, the connectivity that runs through the language that is common ground for understanding for the native peoples and that connectivity has a lot to do with the fact that they are living in nature and everything is nature and so.
"So it's harder for us to distill out the various truths. So I created this course Mythology and the Hawaiian Landscape that came out of all this research, came out of a chapter of my thesis, because I realized that—and to use the catch phrase Polynesian Voyaging is using—'sust'āinability.' Throw the 'āina in there: sust'āinability. And you know that is what we are discussing here: Land, sea, sky and space. Sust'āinability. And it's wrapped up in our motto that was stated by Kauikeaouli, Kamehameha III: Ua mau ke ea o ka 'āina i ka pono."
---