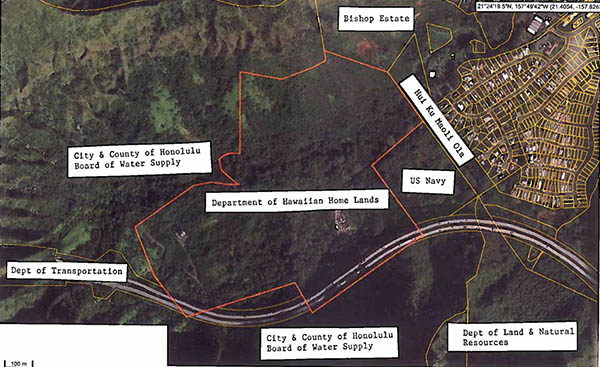 "A few years ago, we prevailed upon the state legislature to declare Ahu a Laka it as a state monument," Mahealani says, "because of the cultural assets. Kawaikapuokalani (Frank) Hewitt from the area testified that Chief Laka was his ancestor from 34 generations ago. So he gave his whole genealogy in his testimony before the legislature. This was about ten years ago. Frank Kawaikapu is Alice Hewett's son.
"We were unsuccessful in having it declared a monument, but we did manage to get the State Department of Land and Natural Resources to support our call for protecting the island during long holiday weekends, where there was a lot of partying and drinking and things that were disrespectful of the area. So people have been a lot more thoughtful about not discarding their trash, and doing other things in the area.
"A major initiative of the Ko'olau Foundation, which the Ko'olaupoko Hawaiian Civic Club supports, is to establish a cultural preserve at Ha'ikū Valley, which is at the mauka, the pali side of the ahupua'a. The cultural preserve is something we had envisioned back to the 1990's. Ha'ikū Valley was taken over by the military in the late 1930s or late 1940s for development of a top-secret radio transmission or communication station. They held the property under the Navy and then the Coast Guard up until 1999 or 1998, at which time they transferred the land to the Department of Hawaiian Homelands. Hawaiian Homelands has had the land since before 2000. Under the different directors, they had different visions for how to use the property.
Read about efforts to re-open the Ha'ikū Stairs
"Now there's an interesting story. We've been trying to get Hawaiian Homes to transfer that land over to let us do the cultural preserve. During the early years, we had a whole plan that our community had developed as to what we'd like to see on this property when the Coast Guard left.
"So we wrote up that report and we gave a copy to then Governor Linda Lingle when she first got elected, and another copy to Micah Kāne, who was the Head of Hawaiian Homes at the time. When we went to see him about it, he said he's appreciative and we said we would like to help if you ever do a master plan for the valley, and he never responded to that at the time.
Read about access and conservation work at Mōkapu
"During that whole period of time he was head, we worked many times to get to try to get him to transfer the land and unsuccessfully. And then later on he calls me up one day and he says he wants me to come to a meeting in his office, and he's going to talk about some land he's giving to the charter school. I said, 'Okay, I'll be there. I'm going to bring Rocky Kaluhiwa with me,' and he said, 'Oh no, don't bring anybody, just come alone.'
"Now that's a red flag. When any government official tells you to come alone, don't go alone. Well I went alone, got into this room filled with his staff and he tells me the plan: they've already signed the agreement, the set of entry or whatever they call it, to allow Kamakau Charter School to have the Quarantine Station's part of the valley. Now the Quarantine Stations are historic properties, but he gave it away. They were never formally put on the National Register.
"The land is mostly in conservation and preservation zoning, and so we have been trying to get Hawaiian Homelands to transfer their land, their holding to the Office of Hawaiian Affairs which who we've been working with for many years to establish the cultural preserve. OHA funded a project for us to develop a cultural preserve conceptual plan. We completed that plan, and presented it to OHA about a year and half ago and the trustees really liked it.
"Unfortunately, they were not successful in getting Hawaiian Homelands to transfer the lands over, because DHHL wants to use it for land exchange, and OHA does not want to exchange land. The trustees say that they donate or they contribute $3M a year out of their own funds to pay for the debt service for DHHL, so they feel they have already paid for it. They think they shouldn't have to do a land exchange.
"So that is the dilemma: the management of OHA is not effective in helping the Hawaiian Homes understand that they need to be fair about this, and they haven't been fair. So that's been the dilemma, and we've been working with OHA on this for at least the last 15-20 years. They funded some things, but they didn't actually help make it a reality because of their own staff's hang-ups, because the board members have been generally pretty supportive.
Papahana Kuaola as a pu'uhonua (place of refuge or rebirth)
"If we can establish the culture preserve up mauka in Ha'ikū Valley, we can open it up. First of all we want to remove all the alien plants and plant a native forest again, restore it to a native forest. And then have outdoor classrooms, hālau, build them with grass creek flooring so we have as little pavement as possible and that would be for school groups, college groups, cultural groups to come in and teach other people either about the culture, about the science, about the history, whatever, in these hālau.
"So that's two things. We want to restore the Omega Station, turn it into Ko'olau museum which would honor the history of the Omega as well as history of the lands affected by H-3 because the H-3's project is supposed to pay for that although they're not doing it right now because they took us out of the plan.
"And we want to build a couple of meeting halls because there's not enough community meeting halls in the Kāne'ohe Bay region. So that's the idea and then Omega station stands above that amphitheater area, so we want to clear the alien stuff, plant more natives, grass the hillside below the Omega station. Right now it's all bushes. If we clear all the alien plants, you can see from the Omega station all the way to Mōkapu, all the way to the ocean.
"And we could put up an earth stage at the bottom of that hillside and we can have hula competitions, we can have chant competitions, we can have the Honolulu Symphony come and visit, we can have slack key music competitions, all kinds of beautiful things can happen there, both educational and cultural. So we can have Makahiki activities in there. so there's all kinds of good things that would happen just waiting for the bureaucrats to get out of way."
"You need money to do that," Alice says, "and if you you're not with the people, you're not going to get help. You have to mālama yourself and mālama the other people. So it's hard. I started kind a do a little bit. We went to OHA, we went to all these different places. But people that own the land, they have the last say. They have the last say, so the DHHL has the land, Board of Water Supply has the land, we have the land over there, trying to work on getting the papers."
"We'll outlast them all," Mahealani says.
---