"They went to Gådao's home and Gådao's wife cooked the coconut crab, and they had supper. And then Gådao said, 'Okay, now I will take you to see this man Gådao.' And Malaguaña said 'Well, you know it's getting late, and home is quite a ways, so I need to go home before dark.' And Gådao said, 'Well, let me help you paddle.'
"So they got into the canoe and started paddling, and Malaguaña was paddling to go forward. Gådao sat in the stern of the canoe, but he reverse-paddled, so they were paddling the canoe in opposite directions.
"But because they were very strong men, the canoe broke in half. And Malaguaña didn't realize the canoe was broken, so he paddled. When he got to Tumon and he looked back, Gådao was in the other half of his canoe."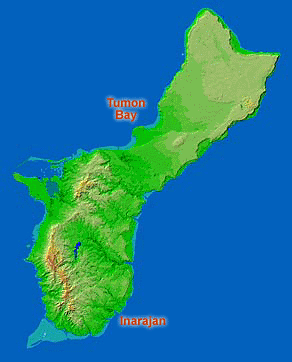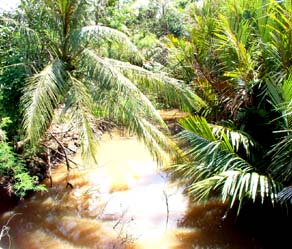 "As Malaguaña is rowing and rowing as fast as he can," Therese adds, "he doesn't realize the other half is gone. Here's Gådao going around the corner, around the bend, laughing his head off because Malaguaña is just rowing as fast as he can, and he doesn't realize he has only half a canoe!"
"But because of the strength of Gådao," Rufo concludes, "when he reverse-paddled, if you go to Inarajan today, you can see the channel dredged by Gådao's canoe. This is not a river. This is the land that was gouged out by his canoe. The force was such that it just dredged a channel, it gouged the land and created that part of the village."