"My grandfather carried on until he met my grandmother and they got married and my grandmother, to tell you the truth, wasn't too thrilled about that instrument, because she didn't think it was that important. To my grandmother, raising a family and providing for your family was more important to her, and playing with the instrument was not that important.
"So, according to my uncle, as a warning to my grandfather, she hit him over the head with it. And told him to stop playing. So he stopped playing. And he raised his family."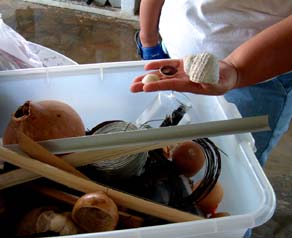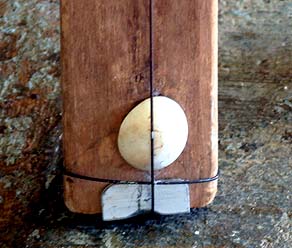 "Then we started having Chamorro Week activities at the schools--that's another special occasion that we have on going. My mother, who was a teacher at the time, and who was in charge of Chamorro Week activities here, she asked my grandfather if he had ever heard of a belembaotuyan, and my grandfather said, 'Yes, I can make it and I can play it,' and my mother said, 'You can?' And so, he made it, he played it, he brought it up to the elementary school and presented it to everybody.
"And since then, everybody wanted him to come and present the instrument, because it was a unique instrument from a long time ago, from what he learned from his father."