"Some are descriptive names. Like here, this Faaelmwog, this means underneath some kind of tree. That kind of tree is very rare now. There's some that are still alive, but that's on the other end of the island, and it's very rare. The name of that tree is Mwog and faaelmwog means underneath that tree. That's the name of this piece of land here, that I inherited from my father.
"These names are linked to clans. When someone gives the name of a piece land, then you know what ranking that place has on the island, who that particular piece of land belongs to. Just by the name."
"If the land is given to someone for a certain service," Mariano explains, "maybe it can be named after a man. But most names are so old we cannot tell the meaning, although there are in our language. All this names are passing down from father to son and from generation to generation. These could be either peoples' names, somebody's names; or named after a certain type of service that was provided."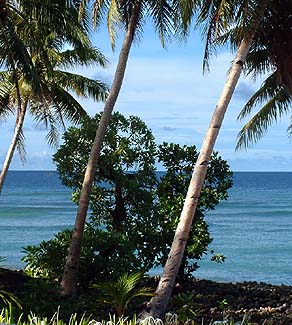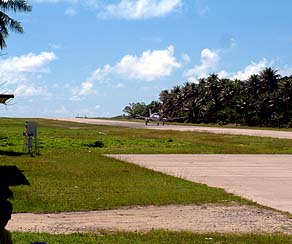 "There are names for each house platform," Mariano continues. "Now for bigger clans there's a name that covers several house platforms. Same thing if you go out into the woods: you have a particular name for an area of land. And there are several parcels in that area.
"For example, on the High School side of Falalop it's called hapilbol. meaning hapil—'the back of'—and bol is the taro patch. So all that Hapilbol area, it's 'in the back of the taro patch' area. That was a big taro patch area. Then they put the runway in the center of it, so just a few taro patches remain along side the runway.
"There are pieces of lands with different names in that same Hapilbol area. They are owned by different people. A single patch to belong to this person. It can be owned by the same clan. And it can, the smaller parcels, can be owned by separate people, different people."
"Now the clan owns this whole area. Mostly, members of the clans, they divide up the land. Let's say I own this parcel because I am a member of the clan. Now you may own that parcel, still within this whole area, because of a service that you gave to the clan.
"And so as a member of the clan, I'm told this, and this knowledge is passed down from father to son: that land belongs to that man, and he will never be removed from that parcel, because of this service that was given to the great, great, great grandfather.
"If there were only two of us, brothers, when we're young, we farm this one piece of land. Now, we grow up: you have a family, I have a family, then our father can split the land in half. That's how we get these smaller parcels within a larger parcel.
"And not only on dry lands, but in the taro patch also. This whole taro patch area is owned by this clan. Now it is divided up into smaller patches. And it's divided so each person tends to a particular, smaller piece."