"When we go to taro patch, we take some leaves, green leaves and dry leaves, and we put them on the taro patch. We put the leaves on the mud in the taro patch. We say that maybe the taro can 'eat' those. We put dry leaves and green leaves, and put coconut frond on the top.
"If your taro patch is better, no grass, then you just go to your taro patch one week, two week, three week. Not very often. But if your taro patch has no taro on it, then it's grows grass, and trees start growing up. Then you can work on it. A taro patch is small, not really big, but one person takes care of one, two, or three."
"To cook it," Mariana says, "peel off the skin, cut it up, put in the pot, add water and we boil it. For big projects, community projects, like the construction of Men's House or Women's House, that's when we use the underground oven, because there will be so much taro to be cooked at one time. So it's going to be a big pit. For regular consumption, we will just cook it in a pot."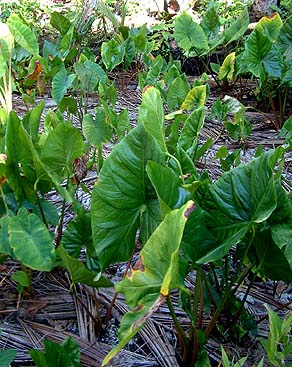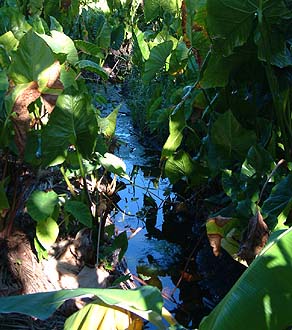 "There are channels in between the taro patches," Lourdes explains. "Now, the water is always up. But not before. Sometimes when you go there, only mud you can see between the taro patches.
"But now the water is coming up between the taro patches. If there's heavy rain, the water comes all way up on the taro, and covers it over. That's not good. When the water covers the taro patch, after a few days some of them die. If you have sweet potato on your taro patch, when the water covers the taro patch, the sweet potato dies."
"Sections of the taro patch that are closer to the edge of the islands," Mariana adds, "sea water seeps in. So the plant doesn't grow very well there in those places."