"There is also a woman's well that they would use to go and bath there. It's a different place, a women's place. But if there are menstruating woman that they are staying in the woman's house, that's where they get their drinking water. During the Japanese time, then we learn that it's bad to drink that kind of water. It's brackish water.
"We didn't collect rain water in old times, because there was no way to collect rain water. No empty drums. We didn't have anything to catch the water. The only pots that we had before, long time ago, was this clay pot that they made in Yap. It was just for cooking, but not for catching water, because if we used it for our water, there would be no pot to cook in!"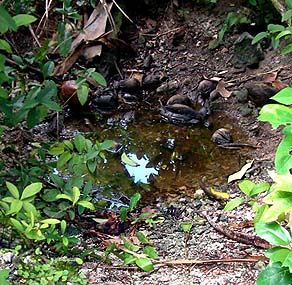 .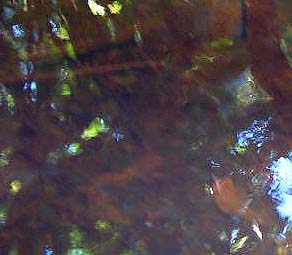 "People no longer use the old baths," Lourdes says. "Maybe we know that with all the people going there and swimming around, maybe there is disease or something. Now we're small and we're weak, but before, the people before, they were really strong and really tall and big. And their kids, when the parents went to those water holes, they'd find breadfruit leaves all way down in the bottom in the water.
"They took this the mud and breadfruit leaves, just rinse it a little bit in the water, and they roll it up and squeeze the juice into the child's mouth, and the kids would drink it. They said that's medicine, only for kids."
"And for us, it was the coconut fruit from under the water. The kids would take a shower in the water and find the coconut fruit, and we'd eat them. I ate these from the time I was small. The coconut fruit beside the water, in the mud. When you cut it, it's white, and then you start eating. Even myself, I ate those, and I know that maybe that this is in older kind, it's really inside the people.
"But now, for the baby, we boil their water and make their food nicely. And the kids get sick. In the old days, we'd just walk around and find copra on the ground and eat it. And it seems when the flu would come, it was really hard to get those kids sick. They didn't get sick so easily.
"And the women, when the stay in the Women's House, somebody would go and take some water from the Women's water, and the Men's water—out of the bath—and they'd bring it for them to drink. No problem. But now you cannot tell somebody to go and take some water there."