"Where the airport is, that's known as As Gonna area, near Ladder Beach and near Obyan Beach. As we leave the airport; there are two ways you can go. If you travel north, first you would probably be going through As Lito, then San Vicente, and As Terlahi.
"Coming down the hill you're going to go through Chalan Rueda, then you'd enter Garapan, and from Garapan you would get to Puerto Rico, and from Puerto Rico you head to As Mahettok. There's a road going to the right there to up in the hill, to Capitol Hill, better known as Donne', which is the chili pepper.
"And then you'll find yourself at As Mahettok and on to Tanapag."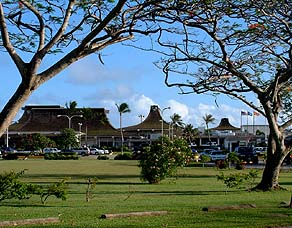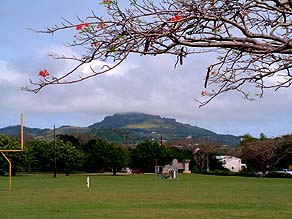 "You can also go this way over to Chalan Pi'ao, and that would get you on the boundary line with San Antonio village. San Antonio is a new name for Afetnias. I know I'd rather continue to go back to the traditional names. The Catholic influence has changed a lot of our culture. San Antonio was originally Afetnias, and I'd rather call it Afetnias than San Antonio.
"You will cross a boundary between Chalan Pi'ao and San Antonio. And then you can cross Chalan Kanoa. Chalan Kanoa is the capitol of Saipan. We now have a U.S. Post Office. That really designates us as a U.S. area. You don't have a U.S. Post Office if you're not a U.S. satellite or in some way attached to the political union of the United States."