The Tanapag area traditionally was fairly large. But following the Second World War, the U.S. Navy built a large facility that took up much of the Southern portion of the Tanapag area. This part of Tanapag is still referred to as "Lower Base."
Ben explains, "Hardly anybody lives down here in what's Lower Base now. It's all garment factories and government offices. We still have the Public Works Divisions down in that Lower Base. The power plant is still there, the main power plant, and companies like the water company, the paint company, the glass company, the company that fabricates parts, and the bus company are down there. Now the transfer station for our garbage is down in those Lower Base areas."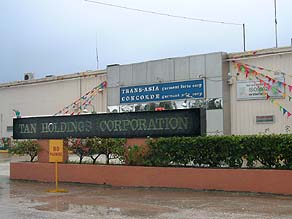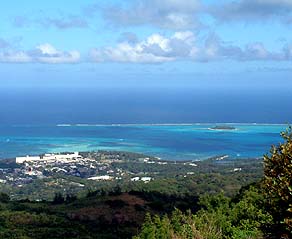 "Puerto Rico is the port of Saipan. It has a large opening for big vessels. But it's not as big as some military prepositioning ships that we often see anchored out there. They should be in the dock area, but they're so big that their draft is too deep for the harbor channel, which is only about 30 to 40 feet.
"Puerto Rico is a new name. During the Japanese time it wasn't called Puerto Rico, which is Spanish, Puerto means the 'way in' and Rico means 'rich,' so it's a rich harbor. That's the significance of Puerto Rico."