"Ija provisionally was set aside as a community pasture for the residents of Inarajan and also from Merizo. The reason that was set aside as a pasture is because of the wind conditions. It is a windy area, so the only things that grew up there were shrubs and sword grass. They are the only things that can withstand the wind."
"Now you see an agricultural experimental station up there, and you see houses up there. But what's going to happen is the valley has a funneling effect on the wind. Even if those houses are concrete, if they are not built to the strength of that funneling effect, they are going to be destroyed.
"Now I live in Talofofo, and there's a valley there where I've seen concrete walls get twisted by the effects of strong wind. And these are concrete walls that are supposed to withstand 200, 300 miles per hour of wind. Yet they get twisted."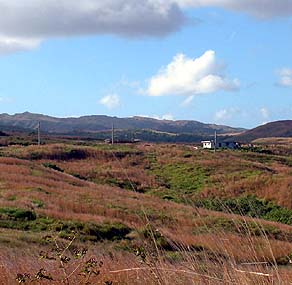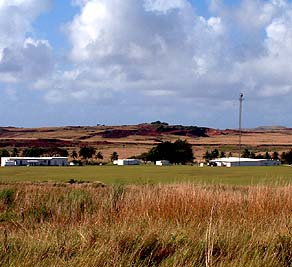 "When you go inside Malojloj, where the NASA tracking station is at, that's Dåndan, another big region. Dåndan extends all the way to the Ugum river boundary with Talofofo. And inside of Dåndan is Tuponi, another region.
"These were all farming and ranching sites in the old days. People have their chicken farms or pasture their cows, their carabao. These areas were also used for gleaning, like going picking betel nut or medicinal plants. And also for hunting deer or wild pigs.
"The deer that we have here were introduced by the Spanish in the 1700s, for the pleasure of the Spanish gentlemen to hunt. The Spanish introduced the carabao, the deer, the cattle, the cat, the Philippine Turtle Dove, and the Dwarf Painted Quail. They were introduced either for beast of burden, or for hunting."