"This is the next level from the thatched roof to this one here." Joe refers to the red-and-white house pictured at the top of this page. "If you look at the pitched roof, that still remains with the thatch-roof concept; and then your bodega, the bottom portion of the house is original, and your batten board, the strips of wood on the siding, shows that this is basically original from the evolution of the thatched roof home to the later home. The house is owned by the late Anna Leon Guerrero."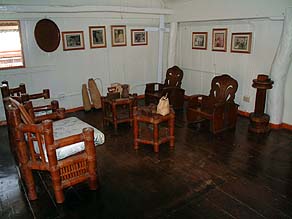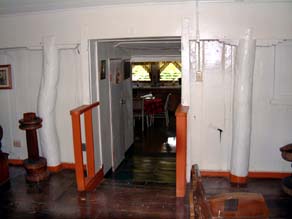 "So if you can imagine this as a thatched home, and evolving into something like this. The pillars are original, from the old structure. That represents the old thatched house. These internal walls would not be here, and this main room area would be used mainly as your sleeping quarters.
"Then when the Spanish came in, and put in the walls, and put in the ceiling, they sort of gave it a name for the living room, la sala, and a name for the bedroom, apusento. And that's when this partition took place. And then you went from there to pre-war, where you have your extension, out into your kitchen. In prewar, the kitchen started to be attached to the home."