"The current Catholic church was built in 1939 and is still standing," Bill tells us. "The construction really was finished in 1939, but then the church was condemned by the military after the War. Bishop Baumgartner said it was unsafe, but Father Bernabe was the priest who got started to rehabilitate the church.
"I believe that the persistence of the council members or the committee that the priests organized at that time, through that kind of persistence or perseverance, they managed to get the church back in shape. I remember Father Camacho, who is now the Bishop of Saipan, was the pastor there, and he worked on that rehabilitation of the church."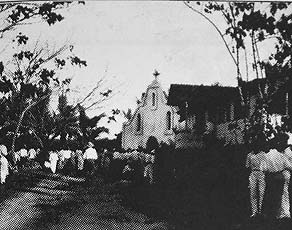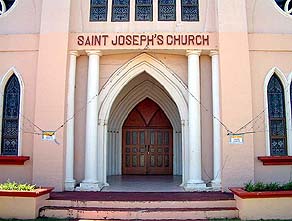 "But then came with those series of Typhoons—Yuri, Typhoon Russ and Typhoon Omar—and then the big earthquake in 1993. We were celebrating my daughter's birthday that evening, and at that time it was shaking, you know it looks like the whole world was ready to collapse. The steeple just broke, I don't know how many feet but it just landed and it stood right into the ground, standing up, upside down. The cross, it turned upside down.
"That was a very serious devastation for the church, and then the walls were also cracked and you could see almost the entire sky from that, but I guess again we were very persistent. I was a Council member, the treasurer. We managed to raise almost a half million dollars for our matching fund with Guam Preservation Trust. We got some money and that's how we brought that church to the way it is right now."
"We rehabilitated the church in Inarajan, in I believe 1996 or 1997 because it was damaged by the earthquake here in August 8th of 1993. When finally it was turned over to the contractor to do the rehabilitation, they found out that there were no footings or foundations to hold it.
"But can you imagine all the earthquakes and plus the typhoons? It stood up. It stood up, you know what, I think it was the grace of God that made it stand, and also the devotion of the people there with the saints."