"Then the sharing would take place," Bill continues. "Commercializing the catch was unheard of. As a family you gathered there and you waited your turn to get your share. It was all divided by the number of families; even if one was not there, somebody was supposed to be responsible to take care so that fish got to the family. There is no such thing that you didn't get your share because you didn't go there. The thing about sharing is that the one who actually does the most catching usually ends up with the least, because that was the person was responsible. You know, 'Take it, please take it' and before you know it, you don't have much to take home! I remember going with somebody and I just tagged along and got quite a bit of fish going home. I thought that was a beautiful part of the culture."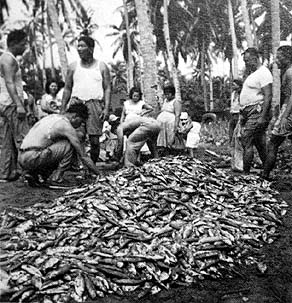 Sharing the catch. Photo by Mrs. Cynthia R. Olson, courtesy of Patricia Daniels.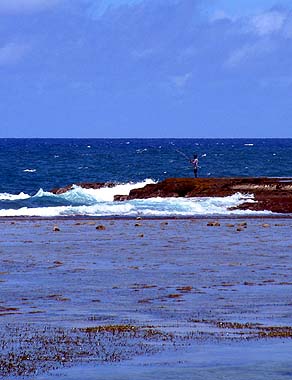 "I remember when I was a little child, down where Bear Rock is, that used to be a big place for catching mackerel, atulai. I was only 5 years old," Therese recalls, "and we weren't allowed to hold the net, but we were allowed to go and pick a fish. Any child, as long as they could walk and hold a fish, that was theirs.
"Nowadays they sell the fish for a living, but when I was a child I remember anybody who could walk could go down, and they were given fish. The whole community, even the sick, anybody who was elderly, they were given their portion of fish. So it was distributed throughout the village. Nobody used it for sale. It was common knowledge that when you bring in fish, you shared with everybody, and every child that went down onto the shore got a fish, and whatever fish you got that was yours, you brought it home and your mom would cook it."
"And you know, when they catch a lot," Tan Floren adds, "they give to the people, house to house. They give first to the priest, and the sisters, and then the remainder they put house to house. Either ten or five. If they have more to give, they give twenty. So if you help that, pull in, they give us more. My cousin and I would go in the deep water, kept pulling that net in, so we'd get more. And then we'd share with the family. It was mackerel, and others like skipjack. And some days they would catch that aguas (baby mullet), to make the kélaguen. Even the mackerel, you can make kélaguen out of it."