"From what my father has told me," Sherey recalls, "the beach property was given to children or family members who have caused harm or shame to the family. You're still family, but they'll give you beach property, because it was not desirable. It was considered unwanted property. You can't grow anything there. And our homes used to be thatch roofed, so when the typhoon comes in, it's gone.
"Everyone else will have the better property, which would be inland, far away from the beach, where you can farm. If you have houses away from the main beach area, it's considered okay.
"Nowadays, beach property is sought after. That's the prime land these days, and a lot of people say, 'Okay, beach property, there's a lot we can do with it.' But before, if you had beach property, people would react like, 'Oh, what did you do?'"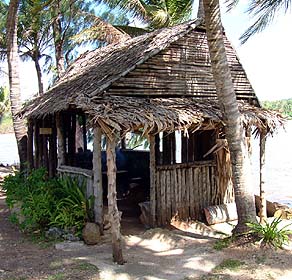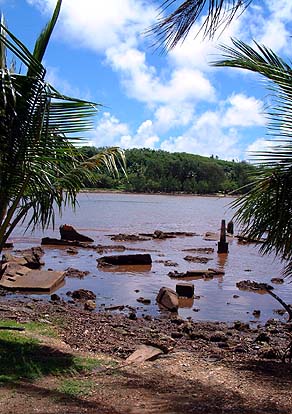 "There were houses in here, small houses. Huts, something like this," Tan Floren says, pointing to the woven and thatched structures of Gef Pa'go. "I think, about one row in there, and this another one. But see, they're all gone, they moved up to Malojloj. And this in here," she points into the water just off Gef Pa'go, "see there's still that cement there? That was the bathroom. Imagine! It's still there, and there's another one on the other side. Those were two bathrooms."
Therese adds, "There used to be a pier all the way out this way. There are still pillars, concrete foundations out there. According to my father, those used to be outhouses. In Merizo,they say the same thing. There was a pier going out, and there were cubicles on the pier. So if you needed to relieve yourself, you went out there and you did your stuff, and I guess everything went into the water. I hope they didn't go fishing at that time! That's really nasty. I think I'm glad I wasn't born at that time. I don't think I would want to go into the water or eat anything from the water!"