"There were like guards," Flomina remarks. "Because once, those soldiers from the ships, they were on R&R and if they came on land, they would go wild. So these doctors, they scared off those soldiers—'hey, don't come here.' I think they may have been higher in rank or something, I don't know. Some soldiers, they came, but the doctors told them to go. Two beers, they were given two beers for the whole day. So used the other islands for R&R."
"One night we were in school, a night school," Alphonso recalls, "and some people came and said there were some boats coming in. So we ran down with these Americans—there was a one doctor and one chief who was supposed to be the guard—they got their pistols and ran down. And these guys were coming up. There were some officers in uniform, I think I spotted one of them, a Lieutenant."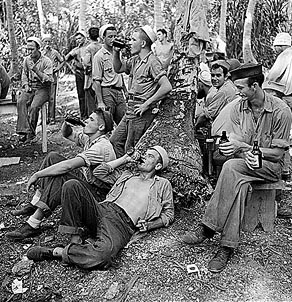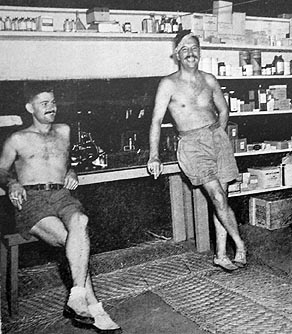 "And the doctor—I think he was either a Lieutenant Commander, or whole Lieutenant—he says, 'Don't you people know this place is out of bounds?' 'Sorry sir, we just arrived, we just came back from Okinawa and we are learning about….' 'Well you can not come in.' If you want to come in you have to go back to Asor and get permission from there and then come in here.' So those poor people went back, but there were others who tried to come in."
"After the War they brought us back," Flomina states. "August 15, 1945. The day Mary went to Heaven, right? August 15. So the same date, the people are brought back. And when they took us, some people took their whole house—they put them on the big military crafts."
"Life was much, much different," Manuel notes, "because American people were very kind to us, more than Japanese people, and they treated us differently from the Japanese."