"And finally people went down on the floor—no more beds, and no more coffee. So we started eating our own food. We asked Yap for some food at the time, because the island, the topsoil was scraped off. It was thin, almost like paper, so it was hard to grow things at the time. But that's when we started planting again, and so I think only two or three times that food, potatoes, were sent to us from Yap.
"And finally, people started breaking down the Quonset huts and building their own houses. There were forty Quonset Huts, for military barracks, lined up on Asor Island, and all these things were broken down and used for our own houses.
"First roofing tin roof, then finally when the tin roofs failed, there was still no place to buy a tin roof, and no money, so when the tin roofs were worn out, we start using thatched roofs."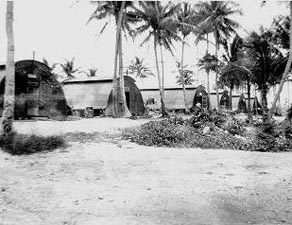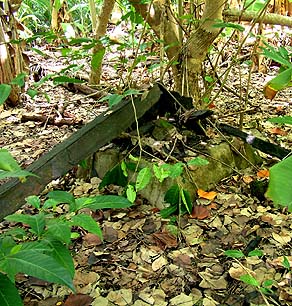 "Also, there was this Japanese watchtower and there was a wooden house on top. They'd stay there and watch. I knew about this because I was one of those who went up there. And we dismantled it and took it to Mogmog and built a house with it.
"And finally, all those military houses were all taken apart and each person used the materials for his own house, and built it where he had to build and so on.
"So, what I respect the old chief for is that, what if he didn't stop us, and we came to depend on what the military had left behind, and suddenly, that runs out—then where are we? So we were lucky that we didn't adopt the use of all those things. Instead, we started making canoes."