"I remember the Coast Guard time in Potoangroas," Juanito says. "There was a time I stayed with the Coast Guard. I was 4 or 5, and this black man, he asked my parents and the chief if he could adopt me and stay at the Coast Guard station, and he wanted to take me to the States and have me go to school there. So he started teaching me, and I learned table manners and those things during that time I stayed with him.
"Until the time that he was going back and the chief and even the priest said I was still too young to go. He left that night. He brought me here to Mogmog and we spent the night here. Around 4:00 in the morning, that's the time he said farewell, because he didn't want to stay until morning when I got up—so they left at night. He and my father went—it was low tide, and they walked back to Potoangroas. And in the morning, they took him over to Falalop and he flew back to Guam."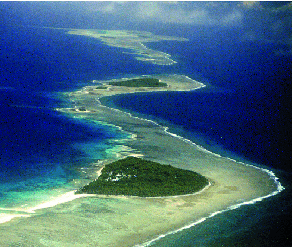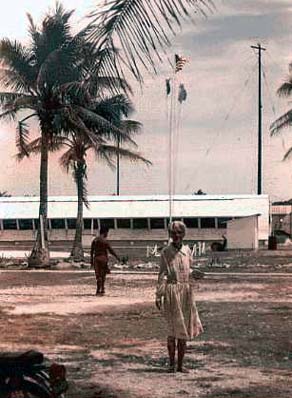 "The Coast Guard people were nice," says Mariano, who remembers them from Falalop. "Of course they had to make friends with the people. Usually the people they knew were the chiefs, island leaders. And the local helpers and their families.
"I cannot say exactly how many people there were, but usually there was the skipper, a chief, a chief petty officer, two cooks, four ET's—electrical technicians—and a chief mechanic. Sometimes they had an assistant chief mechanic. And of course they had a doctor, medics, corpsmen. There were no women, but there used to be a couple of women officers who would come in and spend a few days. That was usually for a big occasion, like a graduation, but I never saw women stationed to serve out the term.
"There was a big Coast Guard ship but it was not stationed here. It would go around and then come back here. But their planes came every week, bringing in supplies and taking out mail. By that time, people here were still not using postal mail. We usually hand carried letters to places, even to Yap, by boat."