"When I went to school here," Isaac Langal recalls, "I hardly ever saw any white people around. The only white person was the district administrator for all the schools, and we saw that man maybe once in two or three years.
"The teaching at that time was already Western style, but it was not consistent. So we still spent more time learning the local knowledge: you had to learn how to identify all the fishing spots in the atoll, and how to help fix a small part on the canoe, and how to sail the canoe.
"If the canoe capsized you could turn it right-side up and things like that—it's really difficult when the canoe goes upside down, and only certain people can turn that thing back up. Especially a thirty-foot canoe, it's difficult to turn that thing right side up. Only certain people can do that. You have to learn those skills."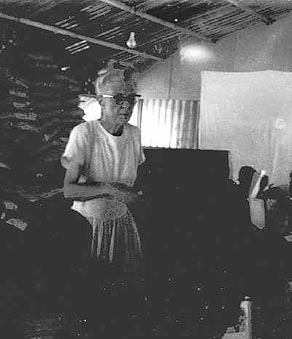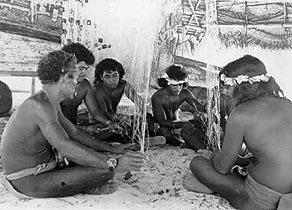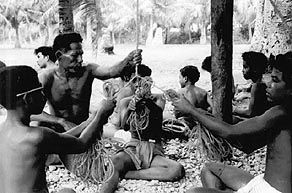 "The turning point into more Western-style education that I see is the Peace Corps introduction into the islands in 1967. There were American contract teachers before, prior to 1967. There was change, but there were also still quite a few of the old people around.
"So when changes started to come, those guys, they would allow this one, and 'no, that one we don't allow, maybe later.' But in 1967 onward, most of the old people, they passed away. And the younger generation, they wanted to go, to explore. They wanted to go for education. I think that was the major turning point.
"Peace Corp classroom teachers," Mariano considers, "I'd say they made the schools improve on their English. Sometimes in the other subject areas. Why I say English is because at that time, even our classroom teachers, they were not so competent in English, but they were good in math and other things. So after the Peace Corps first came here, you could tell the difference in the students' progress in English."
"For the Peace Corps people, as they stayed on the islands, their native speaking improved because mostly, even a native that knew how to speak English would be hesitant to use English, and would be speaking the local language to the Peace Corps. So it made the Peace Corps learn the language faster."
"They came and started learning the language," Juanito explains, "and those who liked to learn the language really learned. There was one Japanese-American guy who later worked at the East West Center. When he speaks, you just cannot tell. If you couldn't see him, you would think he's really from Fais. That's how good he is, and he worked in the Linguistic Department at the East West Center. When I went there I used to call him up and spend a night or two at his apartment.
"And some of them came and only learned the wrong kind of language, the bad ones."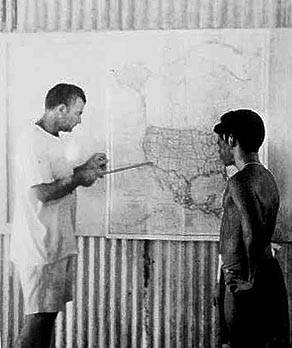 .