"When I was young, the Men's House was very different from how it is now," Ignathius remarks. "It was thatched roof, and the posts of these coconut trees, they cut it, but now they use plywood and two by four and tin roofs. Not many people go there any more. I think they are busy doing other things. And now we have the schools, so the teachers and the students go there. So that makes really few people go down there at the Men's House."
"Now, just look at the Men's House," Juanito laments. "Nothing but all these materials and cement. Before, these things would never come into this place. But now, instead of people coming here in the morning, they come to the canoe house, and that's where we plan what to do. We use the Men's House as a storage place."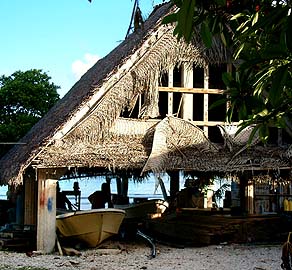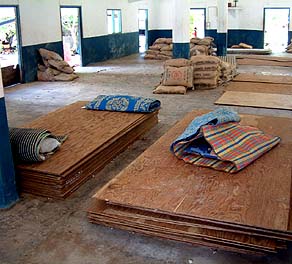 "Now even kids are coming in here and playing, but before, they didn't allow them to even come in here. They just sat outside. And they never came on the walkway on the Rool'ong side of the Men's House. Kids and ladies didn't go there.
"Nowadays, sometimes people meet in the Men's House," Philip says, "and the young people will ask questions and make suggestions. On Mogmog, the custom is still very strong, but it has changed so much since I was young. Now some people talk in the Men's House."
"But in the Men's House, nobody talks. You just listen to that man from Faaelmey or from Legfaeliuy, those highest clans. They will talk to the people, and we just listen, listen, listen and then do. You don't ask questions. But now there is a meeting and we discuss this and we discuss that, and 'oh, we don't like this, and we like that.' This never happened before."
"We tried to build the Falsew Men's House sometime in the nineties," William Yaad says, "but we could not: at this time, people were used to working for money. This modern style, that's why we get a problem, but before, no need for money, so when the chief says we do this, we do. But now, when there is no money, nobody shows up. No beer, nobody will show up."