"Before, they'd go and fish until the sun went down and come back, especially in the summertime, they say that they're going to get some fish we call roahroah, only during summertime. Then they start this eating on the boat with this kind of fish, and now only two or three, drop your hook and the shark will come.
"When you go fishing, what we call dowadow, when you stand on the beach and use the line and pole, the men used white coconut meat on the hook, and those hermit crabs. But now they put fish—and we have plenty sharks. People have not been getting attacked by sharks, but very soon. In Falalop, somebody, a shark bite their legs, and they sent him to Yap."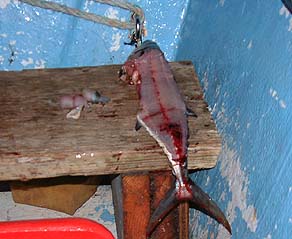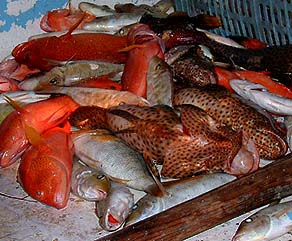 "We use torches when we go at night to catch flying fish" Juanito says. "Only one canoe will go, and that one canoe will have these men who can make magic. And we even had a local magician to put magic in the channels, in the water. And after maybe one month, then people would start going out fishing.
"Sometimes it works. Maybe one season you go out and have a lot of fish. Now we know the fish are going down that way and coming up this way at different times of year. Going down west, coming up east, going down on the southern side, coming up on the northern side."
"Other times, they go out, make magic, put the medicine, no fish. But we didn't blame the fish. We blame the magician. During that whole month, he will stay here in the men's house. Plus the crew, they don't go home, they bring food.
"Another thing about these magicians, they wear only one thu. Once he puts it on, that thing stayed on for that whole month—going out in the water, coming back until, that thing is dry and stiff. After that he got really sore, painful open sores around the waist.
"Sometimes they asked around, 'Who can take medicine?' And if you feel you're ready to go, you can do it, then they take you. But before you go out, you will have to learn the magic."