"The different areas of the lagoon not only belong to an island but they belong to a clan, high clans," Serphin continues. "These areas have names. It's like gardening: people have names on their gardens and taro patches; it's similar with the lagoon. So certain parts of the areas belong to different clans.
"For example, on Mogmog, we have four or five clans that are the owners of those fishing ground areas. It's illegal to fish there without permission: you have to tell those people that belong to that area, that you are going fishing.
"And a long time ago, if you asked for permission to fish in one place, that meant that's the only place that you're going to fish. You're not going to go to some other place that you didn't ask for."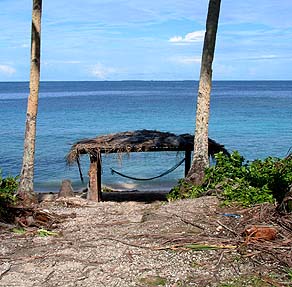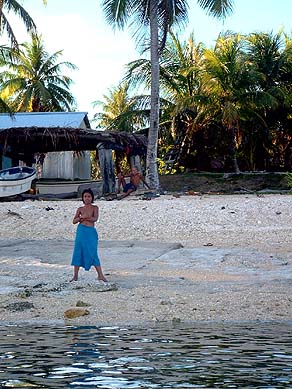 "Now a long time ago, we had only canoes. That's not a fast type of transportation because you have to do so much tacking back and forth. Now that we have boats, transportation is faster here.
"But if you don't ask for those areas, you cannot go just there, even though there's no fish in the area that you asked to go. And, if you catch a fish from this area, when you come back, you have to give at least two fish for the owner. Still today, we are still using that. That's the payback for the owner of the place that you were fishing."
"Different islands control parts of the lagoon," Manuel adds. "For example, Fedraey island, they have their own place somewhere near for fishing. So if people from Mogmog want to fish in here, they have to ask permission from them. Each one of these islands, they have their own areas."