"The road is a lot different now. But you know, in spite of that in those days, our road was okay. The men on Sunday, they would play with that bachtu. They would make a round wood hoop, and then place a rod in the ground, and the men would compete for whoever could put that round wood on that post, that rod. So that's where they were having fun on Sunday. Some of them would be playing volleyball, in that grassy field there. They played baseball there, too. They had some activities in those days. The games, the volleyball, the basketball, they competed.
"They had carabao racing, especially when there was fiesta. Young men, they competed on the carabao. Because it's kind of hard to build that cart, you need a lot of materials. So they just rode on the carabao, and patted the back, and they would be jumping. Ha ha, they enjoyed that.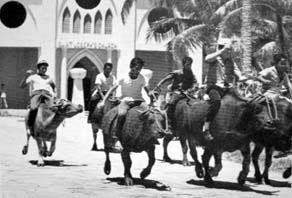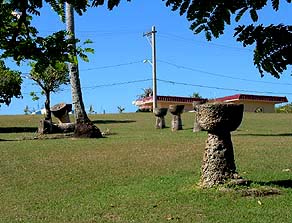 "There used to be Lanchon Antigo, 'ancient ranch,' and, that was back in the '80s," Therese adds. This living museum engaged Chamorro elders in demonstrating traditional crafts and activities, much as Gef Pa'go does today. There were also carabao rides, cockfight demonstrations (without the dangerous blades attached) and other activities that were common in the early 20th century. The site of Lanchon Antigo was up by the Church, and the remnants of it can still be seen there.
What happened to Lanchon Antigo? Typhoon Betty, which passed south of Guam in 1980, almost destroyed it. But eventually it died of other causes. Judy Flores says, "It was very successful for a while, but it was before its time, and there weren't enough tourist numbers to support it."