"Malojloj is under Inarajan's jurisdiction, Inarajan's municipality," Joe explains. "But Malojloj has evolved from farmland or ranch community into its own developed, rural community. The people of Malojloj are extended families of the community in Inarajan. Over the years, families have grown and land is really scarce down in Inarajan, and so land up in the farmlands or the ranch in Malojloj have been used, been parceled, for families to live in. And not necessarily to farm in anymore.
"Malojloj is part of Inarajan, and up there a church has been erected, it's a new church. It's a church of San Isidro, the patron saint for farmers. And beside the church is the monastery of Carmelite nuns."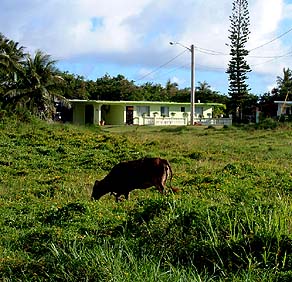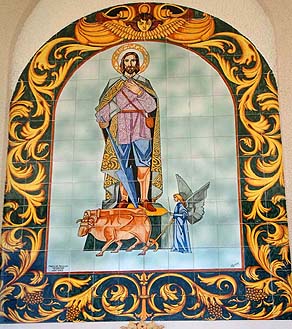 "Malojloj has a different saint, San Isidro," Therese says. "I guess because Malojloj is a farming community, and San Isidro is a farmer, the patron saint of farmers. If you go to Malojloj and you talk to anybody who resides in Malojloj they will say yes, San Isidro is the patron saint of farmers. And the farmers pray to him to help them with their crops to make sure everything is all right with their weather, and that the crops will be fine. Because a lot of people there make their living farming.
"San Isidro was a very hard-working person. I guess one day he was sick and there was no way for him to farm the land and there was no way for him to support his family. So an angel came down and farmed for him, and he was able to move the animal across and plow his fields and plant the seeds and that's how San Isidro came to be.
"When he was well again, he worshipped God. He prayed to God, he was a very religious man, and so he knew that God had helped him in taking care of his family. That is why the people of Malojloj, the farmers, they look to San Isidro for good crops and good weather, and making sure their families are taken care of."