Okay, so it happened that my husband's nephew the taxi driver was driving his taxi around that day. When he heard that the Japanese bombed already at Sumay, he came honking his horn — we were at the church — to go and hide, because the Japanese already bombed Sumay."
"So all of us are coming out, you know, crying, and my brother is just four months old, so my sister and I, we have to pick up whatever we have, and we ran to the end of this village, and we hid. I thought that we'd hid while they continued bombing, so until it was very clear, and then everyone would be going back to their ranch.
"We hid under the big tree. This plane was going around, so we just grabbed whatever we had, and went there. When everything was calm, then we had to go back and get more clothes. Our ranch is not that far, so we just walked."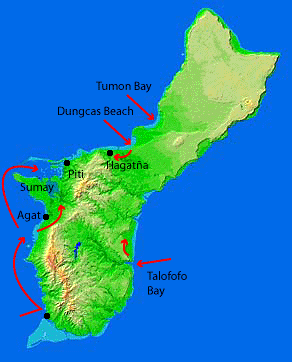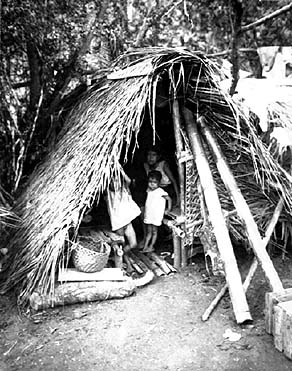 "I think the Japanese just drove down. And in one of the houses where we lived a sensei, teacher stayed there. And another long big house, they made into a galley.
"We even had a Japanese school here, but not for long. I learned how to write my name there, but I forgot before long. I learned a little in here (Gef Pa'go), with the tour guide."
Were the Japanese friendly?
"Some of them" Tan Floren says sternly.
Family shelter in the concentration camps. A lot of Chamorros were moved to camps in the center of the island towards the end of the war.