"Right after Guam was liberated in 1944, World War II was still being fought. So Guam became what they called a 'forward base.' Approximately 200,000 soldiers were on Guam and the Marianas from 1944 to 1945. Guam was heavily militarized in the very short time, from 1944 to 1948 or '49."
One major and lasting impact was the acquisition of land by the U.S. military. This was accompanied by the displacement of many Guamanians. "The two largest villages were destroyed in World War II," Anne says. "About half the island was displaced, and a lot of people moved to their ranches or just had to move in with family and find someone to live with. There was a lot of trauma — a lot of land being taken, people being physically moved."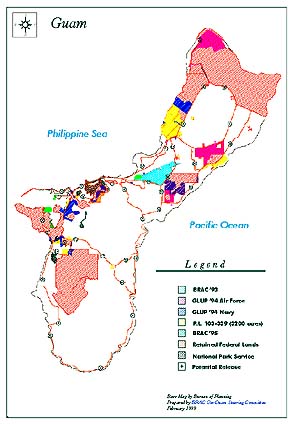 "After the War there were huge land takings," Larry adds. "There were Navy people doing it: Navy judges, Navy attorneys, so the only appeal was to the Secretary of the Navy! And people, well, they didn't mind, they were just so grateful to be liberated from the Japanese, they wanted the military to use their land, but they wanted it back when they were done.
"By about 1947 the Navy began to condemn land for recreational purposes — beaches, golf courses — and that was a little hard to take. We had one guy who stayed with a gun, wouldn't let them take his beach. He did save his land. Another woman had a shotgun, but she lost anyway. Some of that land hasn't been used in 50 years. One family decided to reoccupy their land, and then suddenly at 5:00 am the military started having guys with guns march on the land."
"By 1948, the military control of the land was up to around 70%," Anne says. "And most of the lands they were taking were coastal areas because of the ports, or the plateau areas for their air fields. A lot of those had been ranch areas."