"I think very early on, the cultural conflicts were pretty extreme," Anne continues. "The Spanish, we know, had a different view of the world. This would probably be the equivalent of meeting people from outer space: two cultures that are from totally different worlds. So there are clashes immediately. They have immediate clashes over anything that the Spanish view as religion, so immediate clashes with the makåhna.
"The Spanish viewed the work of the makåhna—dealing with spirits—as work of the devil. Even though the makahnas also worked with herbal medicines and all like that, to the Spanish that wasn't the important part. The important part was that they were dealing with the spirits and particularly because they held skulls in their homes."
"There are also conflicts about women. Spanish priests wrote that these women must be taught to change their ideas about freedom, their 'mistaken notions' of freedom. That's a constant theme in their writing. This is because Chamorro women had power within the family, because they controlled the land. But also I think women had a lot of mobility."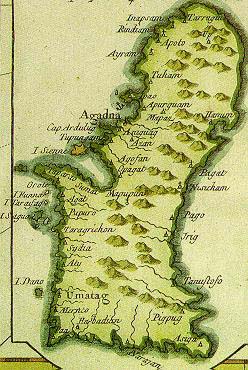 Map of Guam, ca. 1700. Note that "Narajan" (Inarajan) is located at the very bottom of the island.