The Spanish conquest had an impact on social relations among Chamorros. Anne explains,
"In the ancient period you had a caste system but pretty much almost everyone was in the higher, the Chamorri class, there was just that small group of Manåchang. Definitely there was no way out of it for them, and so from their perspective, during the Spanish period there would have been better opportunities for them because if they would intermarry and be related somehow to a Spaniard, then they could rise in rank. But in the ancient system, they couldn't. There was no way out for them.
"In the Spanish period, I think the caste system became more entrenched than before, because in the Spanish system castes or classes were defined more by your bloodline. If you're a Spaniard, if you're part Spaniard, mixed or mestizo, that made you a higher class than the Indio, the indigenous. Once bloodline, rather than age or skill, defines your class standing, then it's harder to gain in status. This is only partially succesful, though, as age is still important today in defining status."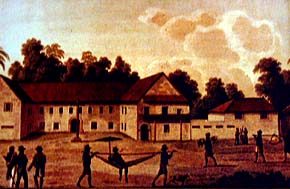 "You do have a Spanish school system but it's not mandatory. So for most families, it made no sense to send their kids to school. Why go to school and learn Spanish when really they want their kids to be working on the ranch and helping fish, helping farm?
"For some families, especially if you were living in Hagatña, and families who were connected to the Spanish government, they wanted their children to have a Spanish education, and learn the language. But for the majority, it didn't really make any sense.
"The other school system was the Sunday School, which was taught in Chamorro because the Jesuits learned early on that they had to work in Chamorro if they wanted really true conversion, and that was the school system that most people went to. It was just once a week and it was in Chamorro."