"And community in another sense could be the people who have roots to this village," Judy explains. "They are all over the island, but they can be a part of this community, and that's what I want to bring back, as far as businessmen, the young people who have moved out and are no longer here physically, but they come back, because their parents are here, or they have roots here.
"We have a few very active people, who are over-worked as far as being leaders in the community. Basically it's the same people that run the Parish council, that run Gef Pa'go, that in some sense are off-and-on the municipal council. It's drawing from the same pool of human resources, and I think we need to expand that. And it can be expanded. We have to develop."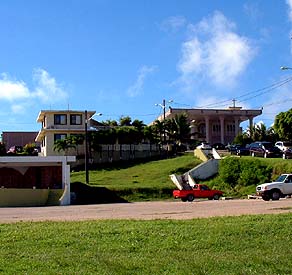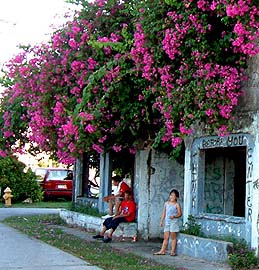 "The hard part I think is to make people realize that the government can't do it all, and people need to take leadership in their own civic activities. I think we've depended on the government for too long to do everything, and somehow that has to be changed.
"We need to start getting some of the younger and middle-aged people involved. We have young businessmen who aren't necessarily living here in the village before, but have roots here, and we need to get them to buy into the idea that they can come back and invest in this."
"I've researched what we call the reinvention of tradition. For example, we can see how many, many art forms were lost, and now they are being reclaimed, revived, re-articulated. One of the most fascinating I've found is Chamorro dance. Chamorro dance revivals began about 20 years ago.
"We've been holding a Chamorro dance festival every year since 1992, but this year will be the biggest. We have four groups coming from Saipan, and one group coming from California — Chamorro groups. Plus six of our school and community groups, plus six professional groups. We were also able to get the master of Chamorro dance, the one who has been pushing it all these years, to organize it, so he's doing a great job."