"I didn't want to go back that far in history, but I did want people to see the way Chamorros lived in the first half of the 20th century — pre-war. Because the drastic change came after the war. So we have people who work here, who remember how life was before the war. Tan Floren, for example, grew up right across the street, and she can tell stories of how she grew up in that village, and that's what we want. Something within memory.
"Gef Pa'go was founded in 1992. When I was working for the Arts Council, I was able to get a planning grant from the Administration for Native Americans, and worked with the people of Inarajan, who were familiar with the concept because of Lanchon Antigo, which was an earlier version of this village. It was very successful for a while, but it was before its time, and there weren't enough tourist numbers to support it."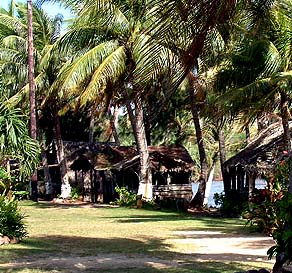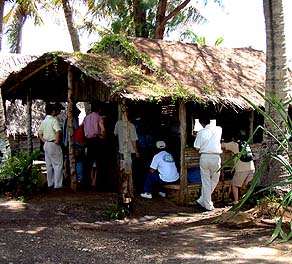 "So that brought memories back, and the people of the village were receptive to it, and we were able to get this grant. We did a survey of what they wanted it to be, and followed their directives, and we've been struggling — this is our tenth year. With tourism ups and downs and things like that, and we are a non-profit organization, everything that we make goes back into the village, but depending on tourism numbers, we can make it or we can't. And our employee numbers reflect our tourism numbers.
"We're trying to develop a volunteer base. We have a group of very loyal employees who spend a lot of time volunteering after hours. We can only afford to employ them for three hours a day, to meet the tour bus needs that come by. But if you came back in the afternoon, you would find some of them still working. So we do have a good employee-volunteer base, a labor of love, really."
"Gef Pa'go has summer camp next month (July)," Tan Floren adds, "and then in August again, and even adults, they're welcome to come. Even they are teaching them how to weave the thatched roof.
"The kids, they really want to learn, they're very interested! When I tell them to go because it's time for their lunch, they say 'No, I'd rather stay.' They don't want to leave, they just want to continue weaving. They enjoyed the last time they were here, they don't want to stop.
"We get about 15 kids, they go from one hut to another. From coconut candy, coconut oil, even making tortillas, they grind it, so the kids will grind it and make tortillas, and they cook it. They make the headband, it's easy for them to learn. Then after one or two weeks, they have a little party. And what they learn, they save it, take it home."