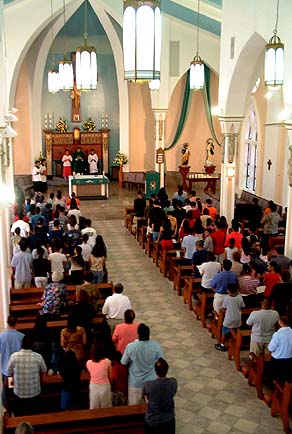 "We have two fiestas in Inarajan," Therese explains. "The feast day for St. Joseph the Husband is on March 19. They have one mass, and a very small fiesta in the evening. But that's only for one day. A lot of people from all over the island come. The church is filled, standing room only, and it came to a point where we had canopies outside the church to accommodate the people that couldn't fit inside.
"In the first weekend of May, it's the feast day of St. Joseph the Worker. It's our main fiesta in Inarajan, and lasts for one or two weekends. A fiesta is not exactly an 'all-stop-work' holiday for the village of Inarajan. It's usually on the weekends."
"When I was growing up," Judy recalls, "every single house had a fiesta on that day. What I see happening now is relatives, children, cousins from all over will come to a particular house, and they all bring their food and it's like a family gathering. The next block over, there are only a few houses that are still occupied. There are a lot more houses that are abandoned or empty, but the remaining people make a block party. All those people get together and have a block party for a fiesta."
"St. Joseph is honored for two particular reasons. It's the same person, but his roles are different. St. Joseph was the husband of Mary. He was the one taking care of Jesus and supported Mary and taking care of them. So his role was to support the family, to take care of Jesus and Mary as a husband and as a father.
"St. Joseph the Worker, people have him as their patron saint because he symbolizes labor, and the importance of working, and why work is so essential to everyday life."