"We are related," Ben agrees, "and we keep it up. Our generation, I can tell you eight generations back, who they are on both sides, my mom and my dad. Because we keep track of it, and we teach our children who they are. So names don't mean anything. I'm disappointed about my last name. I always thought my last name is Chamorro, it's not!
"I found my last name in Rome. M-e-n-o. I saw so many signs that said 'Meno.' I said, 'Wow, I always thought my name is Chamorro. And it's not.' And they migrated from that place over to Spain, Spain to Mexico, Mexico to Cuba, Cuba to Puerto Rico, then the Philippines, and to Guam. So I find out my name is not Chamorro, but that's okay. I'm alive."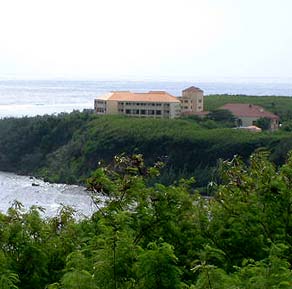 "I believe that people chose Inarajan to be peaceful," Bill remarks, "and that has not really allowed development to come in. I remember where companies actually came in and looked at one area, and I heard my sister was offered quite big money for her property.
"But then looking at the destruction of what development could do to the culture, to the people there. Life would change. This is something that I believe is not quite tolerated or accepted down here, where big development comes in.
"So for business in Inarajan you see the mom-and-pop stores and the gas station. Now there's a recent introduction, the In-and-Out Market, and another market, but it's fairly controlled. I don't want to see anything bigger than that. With the cars available right now to move around the island, mobility is not very restricted. So people make a choice."